Dieses Event ist beendet.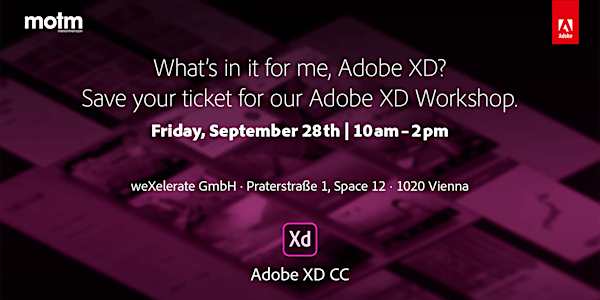 Adobe XD Deep Dive Workshop @ Vienna
Datum und Uhrzeit
Fr., 28. Sep. 2018 10:00 - 14:00 CEST
Veranstaltungsort
weXelerate GmbHme Praterstraße 1 Space 12 1020 Wien Austria
Rückerstattungsrichtlinie
Kontaktieren Sie den Veranstalter, um eine Rückerstattung anzufordern.
Beschreibung
Adobe XD Deep Dive Workshop @ Vienna
supported by menonthemoon GmbH
What's in it for me, Adobe XD?
2018 looks like a showdown year for design and prototyping systems and presumably sometime soon there will be a handful remaining go-to solutions for digital design professionals amidst the vast array of offerings on the market today (last time we stopped counting there were round about 60 …).
In this deep dive, we encourage you to take the time and Adobe XD for a thorough spin, discuss with the extended XD team and learn about its powerful capabilities, that are continuously expanding literally every month, based on the direct input and requests from our users – you!
Chances are, that if you have checked out Adobe XD some time ago, there are many new features that will help you to rapidly design, prototype, and share interactive experiences at the speed of thought.
If you are completely new to XD this hands-on lab lets you immerse in a new tool and learn powerful tips and tricks to remove friction from your digital design process.
Clive K. Lavery will provide unique insights into the roadmap and the user centric design process at Adobe and explain how the XD team manages to deliver quality releases across five platforms on a monthly release cadence. Ask any question, and discuss best practices in product design and development with Clive, who is a member of the XDI Team.
Outline
After an introductory discussion including proper expectation management, we're going to dive into bringing a simple user flow to life. Attendees will create an interactive prototype from scratch, that is shared for feedback and delivered to production. Attendees are to touch every feature of the software and will leave the workshop ready for production work using Adobe XD.
Throughout the workshop, attendees will discuss common (and maybe even completely new) additional ideas and feature requests with the extended XD team and the group, and gain a good understanding on how XD can help solving day to day challenges now and in the future.
Target audience
This workshop is for designers working on all kinds of products that (also) live on a screen, and for people of various related job roles e.g. product owners or developers, that want to prototype and communicate ideas quickly on all levels of fidelity.
It is suitable for both beginners and experienced users of XD.
Attendees are required to bring their own macOS or Windows 10 computer and an iOS or Android device. Detailed instructions will be sent to attendees in good time before the workshop.
Note: Would you like to host a workshop like this with your local design community or meetup? Yay! Send a request to the XDI team using this form.
About Clive K. Lavery
Clive is a Freelance UX Person and Full-Stack Human Being with more than 10 years of experience helping leading digital agencies and in-house teams to make their users and clients happy. As the son of a German mother and an English father, he is also very good at being annoyingly pedantic while drinking large amounts of tea.
Based in Berlin, Clive is a proud part of the Adobe XDI team and an active member of the European UX scene where he has co-organized Europe's largest topical BarCamp, revived the local UX Book Club and mentors students for Career Foundry.
He is currently exploring the impact of Voice and Sound Design on UX and thinking about how to use his skills for Social Good rather than just solving first world problems and making rich companies richer.
Find Clive on Twitter and LinkedIn.
If tickets are sold out, please come back one week before the event. If anybody returns his/her ticket, we will offer them here.