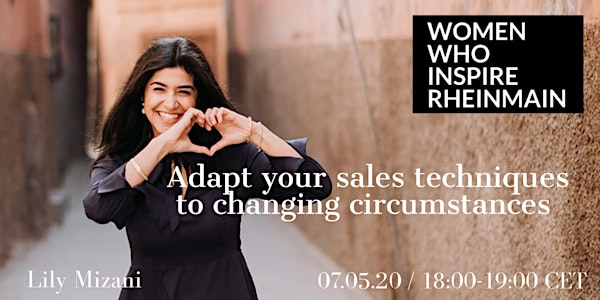 Adapt your sales techniques to changing circumstan
ADAPT YOUR SALES TECHNIQUES TO CHANGING CIRCUMSTANCES
Refund Policy
Refunds up to 1 day before event
About this event
This EXCLUSIVE ONLINE SEMINAR is to support your business by giving you knowledge on how to boost your SALES and ADAPT to the changing circumstances.
Keynote speaker is Lily Mizani, Founder of HeartcoreSales.
ONLINE EVENT AGENDA:
18:00 - Login, Dial-in
18:00 - 18:05 Introduction
18:05 - 18:50 Seminar
18:50 - 19:00 Q&A and Closing
SEMINAR AGENDA:
1. Sales mindset, as 80% of our success is psychology and 20% is the skillset.
2. What type of people win in sales as we discover the qualities sales people need to have.
3. Objections and how to deal with them. Case studies.
4. Q&A session
The event is hosted and moderated by:
Anetta Leticia Vajda - Women Who Inspire Rhein Main
Date: 7th May
"Women Who Inspire Rhein-Main" is a regional series of live events and a platform, featuring accomplished and outstanding female speakers, founders, leaders and role models from all walks of business to inspire and empower a wide range of audience through their success stories."
The overall goal is to strengthen professional relationships and connections within the ecosystem in the Rhein-Main area.
Inspire and support to succeed!
Data protection:
By registering to this event which is through ordering a free ticket with Eventbrite, you give consent that Woman Who Inspire Rhein Main (1) save your contact details - name, email address and other details provided, (2) allowed to take photos and videos during the event that might be published online and that might include you.
You also agree to receive information from Women Who Inspire Rhein Main about future events and activities by postal or electronic means, and that your contact information will be stored for this purpose.
You grant us the right to an unrestricted use of the photos and recordings for communication in all media channels.
By booking this event, you agree that your personal data collected in connection with this registration will be stored and used by the organisers for organisational and administrative purposes of this event.
As far as your personal rights are affected by the photo and video recordings, you shall not register for this event.
Previous Venues: WeWork, Beiten Burkhardt, Goethe University, CoWork&Play, Mindspace, MyZeil, Techquartier. Previous speakers and moderators: Ada Salas, Amy Curlee, Angelica Iulia Timofte, Anne Tischer, Ayfer Arslan, Bianca Praetorius, Britta Mues-Walter, Carolin Wagner, Celine von Wallenberg, Carolina Yeo, Christina Kraus, Christine Hager, Corinna Haas, Deborah Schnabel, Dr. Gesine von der Groeben, Dr. Markus Wiedemann, Gemma Ferst, Jana Ehret, Julia Tanasic, Katharina Funke-Braun, Katharina Schreiner, Katrin Redmann, Lilli Rohde, Maike Benner, Lea Roser, Lea Vajnorsky, Marina Zayats, Michelle Peters, Nicole Van Hoeck, Paula Landes, Natalia Korchakova-Heeb, Mona Szyperski, Mynia Deeg, Nadia Doukali, Rahel Demant, Susanne Eickermann-Riepe, Stefanie Stanislawski, Vidya Munde-Müller and Yvonne Schrodt.