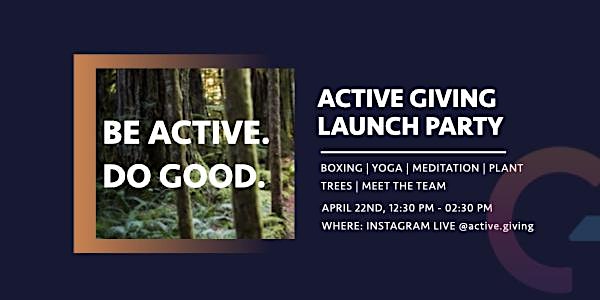 Active Giving Virtual Launch Party
BE ACTIVE. DO GOOD. Join @active.giving on Instagram Live to meet the founding team, plant trees, meditate and join a fitness class.
About this event
JOIN THE EVENT BY CLICKING HERE
__________________________________________________________________________
AGENDA
12:30 PM Cardio Boxing 
01:00 PM Vinyasa Yoga 
01:20 PM Meditation 
01:40 PM Active Giving Explained  + meet the founding team
02:00 PM Chat with John Leary, Executive Director of Trees for the Future
02:20 PM Live Q&A 
_________________________________________________________________________
LOCATION
Instagram Live @active.giving
_________________________________________________________________________
HOW TO PARTICIPATE
Follow @active.giving on Instagram.
Share your first name and email with @active.giving before, during or after the event. We will then send an email allowing access to the app.
As users of our beta release please share your feedback! (This can be done by taking screenshot.)
Tune into Instagram Live on April 22nd at 12:30 PM CET.
Be active by participating in our boxing and yoga classes lead by certified instructors, Emily McLaughlin and Ricarda Magduschewski.
Do good for yourself by participating in our mindful meditation session lead by holistic health coach Anna Giunta.
Do good for everyone else; plant trees or mobilize frontline health workers in rural areas by logging your activities in the Active Giving app.
Continue to use Active Giving on every run, walk, bike ride or virtual fitness class to contribute to the health of the global ecosystem.
Questions for the founding team or Active Giving partner, Trees for the Future, can be submitted to [info@activegiving.de]. Questions might be use during the event Q&A.
_________________________________________________________________________
DESCRIPTION
Active Giving enables the eco-conscious, digitally connected, fitness enthusiast, to contribute to a good cause while improving personal health and wellbeing. Active Giving creates a sense of stewardship towards oneself and towards the planet by compensating calories burned or kilometers covered with funding to green or social projects.
Through a series of virtual sports challenges, digital marketing promotion, and strong social media presence, Active Giving supports investment into social and environmental projects by increasing awareness of sponsor commitments to community health and sustainability.
_________________________________________________________________________
GUEST SPEAKERS
Trees for the Future is an international development nonprofit working in Cameroon, Kenya, Senegal, Tanzania, and Uganda. The organization trains rural farmers to revitalize their land by planting trees that allow for a variety of fruits and vegetables to be grown on their land. This is called The Forest Garden Approach. Once their Forest Gardens are growing, farmers see a 400% increase in income on average and have food security for their families, all while helping the environment. Learn more at trees.org.
I'm a Boston native living and working in Berlin, Germany, as a product content manager at a health & fitness startup. Outside of my 9-5, you can find me in a few different places: the kitchen, the fitness studio, out pounding the pavement, or leading a WIP retreat. I'm a registered yoga teacher, certified culinary nutrition expert, and long-time (10 years!) fitness coach who is passionate about helping you move with purpose and feel nourished in every way.
Vinyasa Yoga with Ricarda Magduschewski
I am Ricarda. I live in Berlin and work as a yoga instructor inside office spaces, at studios and on events. Moving the body is a passion of mine and so is making people smile. For me the best part of my classes is when you're letting go, enjoy the mindfulness and realize how you're actually able to feel.
After practicing yoga for years and intensifying it more in Miami over a course of 6 months it was time for the next step. I got my yoga teacher license at Yandara in Mexico February 18 and have been blessed to teach many classes filled with all kinds of yogis ever since.
For me, Flawsome means to have the courage to embody and exude my intuitive uniqueness and being able to embrace my flaws with compassion and kindness. I want you to be able to do the same; perfection is a limit; YOU ARE FLAWSOME as you are.
Flawsome Yoga Wellness is a service that integrates health coaching, nutrition advice, home cooking, Yoga and meditation practice, encourages healthy lifestyle habits and Self Care. Rooted in the belief that nutrition and lifestyle are not one-size-fits-all, every program event and class is created to help delicious humans find a way of living that supports their unique biology and individuality.