Dieses Event ist beendet.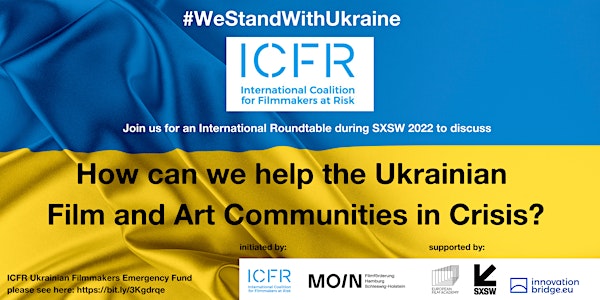 Action Roundtable | How to Support Ukrainian Filmmakers and Artists
Roundtable | War and a Humanitarian Crisis in Ukraine - What Can We Do to support Ukrainian Filmmakers and Artists #WeStandWithUkraine
Von german.innovation | ginNova GmbH
Datum und Uhrzeit
Fr., 11. März 2022 09:30 - 12:00 CST
Veranstaltungsort
Innovation Bridge Europe - House at Wax Myrtle's Club / Rooftop 506 San Jacinto Blvd corner of East 5th Street Austin, TX 78701
Zu diesem Event
In view of the terrible war and humanitarian disaster that the Russian army's invasion of Ukraine is causing, we have to stand by the Ukrainian film community, and the Ukrainian people. The International Coalition for Filmmakers at Risk (ICFR), its founding partners and its wider network have put together the "Ukrainian Filmmakers Emergency Fund".
Join Helge Albers, CEO of MOIN Film Fund Hamburg Schleswig-Holstein, one of the early contributors, in this session to discuss what the Emergency Fund does – and how you can be part of it. The session will be introduced by Oscar-nominated film director Agnieszka Holland (CHARLATAN, HOUSE OF CARDS), President of the European Film Academy, who is currently in Poland and will be joining virtually. Also joining is Simone Baumann, CEO of promotion body German Films and expert of Eastern European cinema.
#WeStandWithUkraine
Support Ukrainian Filmmakers and donate to the emergency fund of ICFR
Should you not be able to attend the session, but would have liked to, please contact us and we can arrange another round during SXSW or virtually after SXSW.
Please contact albers@moin-filmfoerderung.de for any questions.
organized by
with support from
Über den Veranstalter
german.innovation is a collaborative Strategy Consulting and Networking Agency focused on innovation strategies, the implementation of emerging technologies and connecting innovators and creative minds internationally. german.innovation's official entity ginNova GmbH was founded in Hamburg (Germany) in the summer of 2020 by long-time collaborators Sanja Stankovic and Claudia Schwarz.
german.innovation seeks to promote interdisciplinary collaboration and knowledge exchange to accelerate transnational (cross-) innovation, strengthen the "tech for good" community and to collectively work towards achieving the Sustainable Development Goals (SDGs) set by the United Nations. While we share a curiosity for all things tech, we have a particular passion for Creative Technologies; CleanTech, Sustainability and Social Impact Tech; Smart (Creative) City Strategies and their intersections of mobility, clean energy and big data as well as Artificial Intelligence, Machine Learning and Tech Ethics.