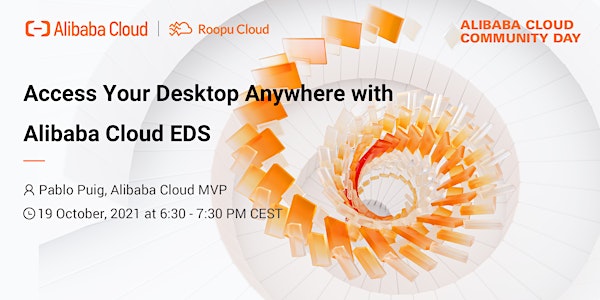 Access Your Desktop Anywhere with Alibaba Cloud EDS
Access Your Desktop Anywhere with Alibaba Cloud EDS
About this event
As part of the Alibaba Cloud Community Day, Roopu Cloud will be delivering a webinar about "Access Your Desktop Anywhere with Alibaba Cloud EDS".
Agenda:
1. What are Remote Desktops and why do you need them?
2. How Do Remote Desktops Work?
3. What Can Remote Desktops Offer You?
4. What is Elastic Desktop Service (EDS)?
5. EDS Architecture
6. What are the Features of EDS?
7. What are the Benefits of EDS?
8. What are the Common Use Cases?
9. How much does EDS cost?
10. Demo: How to configure Alibaba Cloud Elastic Desktop Service (EDS)?
11. Demo: How to install the EDS client?
12. Contact
13. Q&A
Speaker:
Pablo Puig