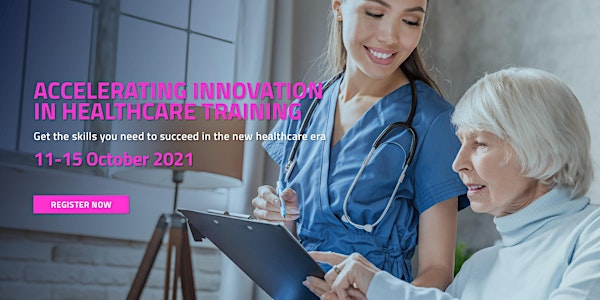 Accelerating Innovation in Healthcare Training
Empowering the next generation of healthcare innovators
Refund Policy
Refunds up to 7 days before event
About this event
Accelerating Innovation in Healthcare
Is working with hospitals your next strategic milestone? Do you have an idea you wish to scale for patient benefit? Our Accelerating Innovation in Healthcare Training might be the right thing for you.
EIT Health Germany is offering a unique combination of intensive training and development of personal skills that enable participants to make healthcare innovation happen. The training is designed to assist healthcare entrepreneurs with the skillset and network to bring healthcare solutions to the market and provide participants with tools and insight into how innovation can be put to work for the benefit of patients, the healthcare system and our society. Over the course of one week, you will have the opportunity to hear from experts on digitalisation of healthcare systems, market access strategies, emerging models of healthcare, design thinking in medical context, co-creation programmes with patients, etc. Browse through our catalogue and choose among a dozen of workshops.
_____________________________________________
PROGRAMME:
Monday, 11th October 2021
12:30h – 14h: The patient's voice: an integral part of healthcare transformation 
Co-creation is at the heart of any effective patient-centric strategy. Including them from the start and treating them as partners is essential for obtaining and refining your product. What can be done together? How it can be achieved? How should you proceed? After this workshop, you will be able to answer those questions and many more.
15h - 17h: Navigating the Hospital: Untangling the knot of hospital IT
The level of complexity of the hospitals IT system can be a barrier when trying to innovate. A deep understanding of how hospitals work, also on the IT side, is crucial for Digital Health and MedTech entrepreneurs. In this workshop, you will receive a master class on how hospital informatic systems works, and how a digital solution should be built to be integrated there.
Tuesday, 12th October 2021
9:30h – 11:30h: Step by step guide to a successful market access strategy
The market access strategy needs to be properly formulated to ensure the success of your product. In this workshop, you will be provided a step-by-step guide for market access strategy formulation and implementation. Besides, different market access tools related with Health Technology Assessments (HTA) and evidence will be discussed in depth.
12:30h – 14h: Market Access across Europe: Exploring Central and Eastern Europe
Experts coming from the Latvian and Croatian markets will share the specificities that need to be considered when entering different European markets, specifically those located in the central, eastern and southern part of Europe. All the information regarding reimbursement and relevant stakeholders in that markets will be shared, following the market access introductory session.
15h – 17h: Market Access across Europe: DiGA as Go-to-Market strategy for Germany
This workshop offers all the details and tips to successfully enter in the German market. The focus will be on the Digital Health Applications (DiGA) requirements and process, and the main challenges when entering in the market. It is the perfect opportunity to ask your questions to experts coming from different areas!
Wednesday, 13th October
 9:30h – 11h: Reimagining clinical trials in the age of the digital patient 
The validation process for digital health products is complex, but extremely relevant for market launch and acceptance. In this session, which kind of evidence is relevant in this field, and when and how it should be generated will be discussed. In addition, you will get to know how clinical trials could look like in this context and will explore the relevant role of real-world data as well as the convergence between clinical research and clinical care.
12:30h – 14h: The complexity of bringing innovation to hospitals
Digitalization in hospitals has the potential to improve immensely the service delivery. Processes optimization through digitalization is urgently needed, but it is slow and encounters many barriers. In this workshop you will get to understand in depth what is the status quo of the topic and the main challenges found when trying to innovate in these settings.
15h – 17h: Advanced Design Thinking in a Medical Context
The value of a medical system is largely influenced by its usability and accessibility, and that two crucial aspects need to be considered during the design and constant evaluation of the product. In this session, you will get all the relevant information on the topic by an expert in UX and Integrated Health.
Thursday 14th October
9h - 13h: Secrets to a Winning Pitch: How to Wow your audience 
Pitching your concept is something that happens already early on, but it's a skill you'll need to master as you develop a startup or corporation. As a result, regardless of where you are in your career, we strongly advise you to master this ability. The rigorous pitch coaching will teach you what to say, what not to say, and how to say it in order to get the desired reaction from the specific audience.
Friday 15th October
12:30h – 14h Emerging business models in healthcare
As the convergence of healthcare and technology increases, new business models are developing. The first session of the week focuses on emerging business models and the state of digital health in a changing clinical, reimbursement, and regulatory context. If you want to better understand the "business side" of the healthcare sector, this workshop is for you!
What to expect?
A holistic overview of the complex healthcare landscape
Directions for identifying needs in a healthcare setting
Expert tips to navigate the hospital environment
Who should attend?
The sessions are aimed at entrepreneurs, innovators, and start-ups working in Medtech, Biotech and Life Sciences who are looking to take the next steps to expand their company. Some sessions are specifically targeting entrepreneurs and companies that plan to start collaborations with healthcare providers, like hospitals, in the future. 
Pricing information
Participants can choose to attend individual sessions or book the courses as a package. The cost is 50€ (Incl. VAT) per course, with a package option of 300€ (Incl. VAT) in total. Attending students receive a 50% discount on all courses.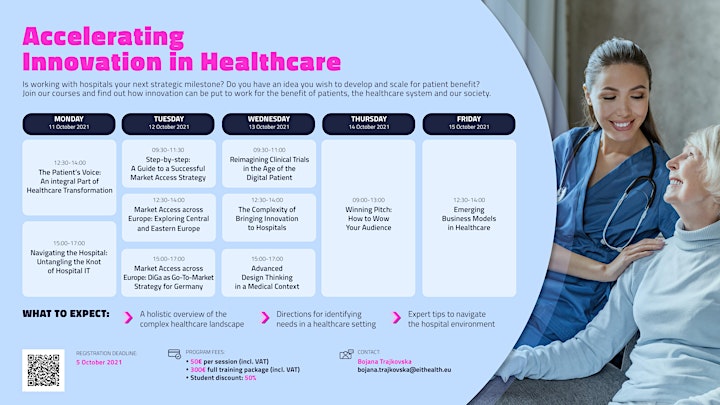 _____________________________________________
ABOUT EIT HEALTH GERMANY
EIT Health Germany is one of a total of seven EIT Health Centers in Europe and currently serves 35 leading companies and public health care institutions in Germany, Austria and Switzerland as well as renowned universities and research institutions in the spirit of the EIT Health Mission in a "public-private partnership". The aim is to jointly address the urgent health challenges of our time with concrete measures and programmes in order to open up new resources for established and young companies and to realize their ideas in common products and services for the European market.