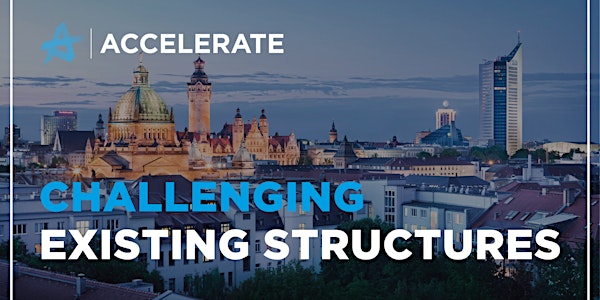 Accelerate Conference 2023
Come and join HHL's Accelerate Conference in April in Leipzig and experience Startups challenging existing structures
By HHL Leipzig Graduate School of Management
Date and time
April 20 · 10am - April 21 · 11:30pm CEST
Location
SpinLab The HHL Accelerator Spinnereistrasse 7 Hall 14 04179 Leipzig Germany
Refund Policy
Contact the organizer to request a refund.
About this event
1 day 13 hours

Mobile eTicket
Join the Accelerate Conference!
Accelerate@HHL is the entrepreneurship event of Germany's most entrepreneurial university – HHL Leipzig Graduate School of Management, organized solely by students. Every year we invite top entrepreneurs, investors, and young talents to Leipzig to share their insights and challenge future beliefs.
With this year's conference evolving around the topic "Challenging Existing structures", we aim to highlight how startups are a key driver of the evolving german economy, and how kMU´s, Startups and cooperations can cooperate and learn from each other for mutual benefit. 
What's in it for you?
✔️ Are you an investor, or part of a VC, and looking for "the next big thing" to invest in? Then Accelerate is the place to be. Be prepared to be blown away by business ideas and start-ups within our group of participants and during our pitch contest. 
✔️ If you are an entrepreneur, and already founded a start-up or looking for business partners or investors for a new business idea, you belong to the Accelerate Conference as well. Business specialists, investors, VCs and accelerators will be in Leipzig with us looking for good ideas - and yours can be one of them. Apply for the pitch contest for an even more intense contact with our investors.
✔️ Are you a student or a young professional and your aim is to get to know new and exciting companies to apply to? Then Accelerate can help you with that. At our career fair you'll have the chance to establish professional relationships and discuss potential job and/or internship opportunities. 
Then don't hesitate and join us on April 20-21 either directly in Leipzig. Be quick with your decision. We only have a limited capacity for the event, so make sure to get your ticket as soon as possible.
In order to participate at the conference, we require a CV. Please send us your CV to accelerate@hhl.de. This step is mandatory to validate your ticket.
Who is behind Accelerate?
We are a student initiative at Germany's most entrepreneurial university, HHL Leipzig Graduate School of Management. Our team consists of 20 highly motivated MBA and MSc students that are looking for like-minded people who have the entrepreneurial spirit, are highly driven and want to be a part of Shaping a Better Tomorrow. 
Please note our instructions:
• For the participation in the event it is necessary to register in advance via eventbrite. Please fill in all required contact fields during your registration.
• Please have your e-ticket with you and ready during the check-in.
Language and DSGVO
The conference will be held in English.
In accordance with the GDPR, your data will only be collected for this event and will be deleted within 2 weeks after the conference.
Please note that the conference will be recorded (film and/or photos) and that we will use the material internally and/or externally in compliance with § 23 KunstUrHG and Art. 6 Para. 1 f) GDPR.
We are looking forward to meeting you in Leipzig!
Interested in further events of HHL? Please check the HHL Event Calendar.
About the organizer
Handelshochschule Leipzig (HHL)
Die HHL ist eine universitäre Einrichtung und zählt zu den führenden internationalen Business Schools. Ziel der ältesten betriebswirtschaftlichen Hochschule im deutschsprachigen Raum ist die Ausbildung unternehmerischer, verantwortungsbewusster und leistungsfähiger Führungspersönlichkeiten. Die HHL zeichnet sich aus durch exzellente Lehre, klare Forschungsorientierung und praxisnahen Transfer sowie durch hervorragenden Service für ihre Studierenden. Die Studiengänge umfassen ein Master in Management-Programm, einen Master mit einer Spezialisierung auf Finance sowie ein MBA-Programm. Alle Programme können in Vollzeit oder Teilzeit absolviert werden. Die HHL verfügt über das Promotionsrecht. Die HHL Executive Education bietet hochaktuelle Management-Seminare und -Programme für Führungskräfte an. Neben dem Campus in Leipzig unterhält die Hochschule Studienstandorte in Köln und München. Die HHL ist akkreditiert durch AACSB International. Besuchen Sie uns auf www.hhl.de.
HHL Leipzig Graduate School of Management
HHL is a university-level institution and ranks amongst the leading international business schools. The goal of the oldest business school in German-speaking Europe is to educate entrepreneurial, responsible and effective business leaders. HHL stands out for its excellent teaching, its clear research focus, its effective knowledge transfer into practice as well as its outstanding student services. Study programs include a Master in Management program, a Master with a specialization in Finance as well as an MBA program. All programs can be completed full-time or part-time. HHL also runs a Doctoral Program. The HHL Executive Education offers state-of-the-art management seminars for executive talents. Besides its main campus in Leipzig, the university maintains study locations in Cologne and Munich. HHL is accredited by AACSB International and ACQUIN. Visit us on www.hhl.de.