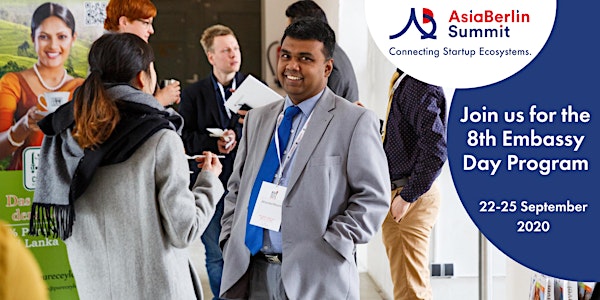 ABS20 Embassy Day, September 22-24
Join the 8th EMBASSY DAY as part of AsiaBerlin Summit 2020
About this event
Asian embassies will be invited to organize their own seminars and workshops as part of the AsiaBerlin Summit. The event will be held as a hybrid event and offers a platform for nvestors, founders, researchers, and universities.
Program:
September 23:
Organizer: Embassy of Bangladesh
Title: Explore Green Bangladesh - Unlocking the Potential - online only
Time: 10:00 am - 11:30 am - online only
Agenda: Please click on this link
Organizer: Embassy of Pakistan
Title: Internationalizing Startups and Ecosystems: German - Pakistan Collaboration?
Time: 2:00 pm - 3:30 pm
Agenda: Please click on this link
This is a hybrid event, you can join online or on-site (at Spielfeld Digital Hub in Berlin)
September 24:
Organizer: Royal Thai Embassy
Title: Thailand: A Fascinating Investment Destination of Asia for Landing Startup - online only
Time: 9:00 am - 10:45 am - online only
Agenda: Please click on this link
Organizer: Embassy of the Philippines
Title: The 3rd Philippine StartUp MeetUp - online only
Time: 9:30 am - 11:30 am - online only
Agenda: Please click on this link
Organizer: Embassy of the Socialist Republic of Vietnam
Title: Accelerating startup ecosystems through IT-capabilities in Vietnam - online only
Time: 11:00 am - 12:30pm - online only
Agenda: Please click on this link
Organizer: Embassy of Indonesia
Title: Indonesia during the pandemic: digital opportunities including the example of the healthcare industry - online only
Time: 11:00 am - 12:30pm - online only
Agenda: Please click on this link
September 25:
Organizer: Embassy of India
Title: A Deep Dive into the Indian Start-up Ecosystem - online only
Time: 10:00 am - 11:15 am - online only
Description: Please click on this link
Organizer: Embassy of Mongolia
Title: Start-Up Ecosystem and Investment in Mongolia - online only
Time: 11:30 am - 12:30 pm - online only
Agenda: Please click on this link and find the speakers here