Dieses Event ist beendet.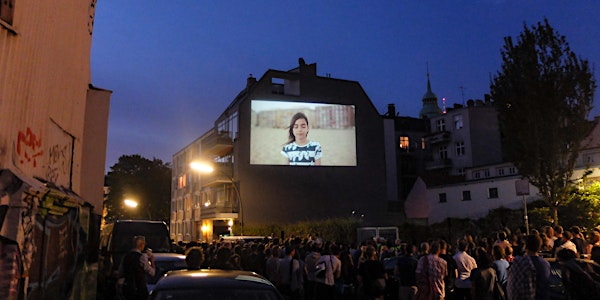 A Wall is a Screen: Frankfurt
A Wall is a Screen Frankfurt : Kanadische Kurzfilme auf der Buchmesse Frankfurt / Canadian Short Films @ Bookfair Frankfurt
Zeit und Ort
Veranstaltungsort
Ankündigung folgt
Zu diesem Event
Am 21. und 23. Oktober präsentiert A Wall is a Screen in Kooperation mit den drei kanadischen Filmfestivals Vancouver International Film Festival, imagineNative und REGARD kanadische Kurzfilme im Rahmen einer einzigartigen Kurzfilmwanderung auf den Wänden der Frankfurter Innenstadt. Das Publikum bewegt sich zusammen mit dem Projektionsteam von Wand zu Wand und somit von Film zu Film, jeder Film des Kurzfilmprogramms wird spezifisch für seinen Projektionsort ausgesucht. A Wall is a Screen schafft einen neuen Kontext für kurze Filme und setzt vermeintlich bekannte Orte der Stadt für zehn Minuten in ein neues Licht, bevor es zum nächsten Ort weitergeht - das ultimative Pop-up-Kino! 
Diese temporäre Symbiose zwischen Film und Architektur schafft neue Perspektiven und verbindet visuell die Frankfurter Innenstadt mit dem kanadischen Kurzfilmschaffen.
Der Startort wird nach Anmeldung bekannt gegeben.
Dauer: ca. 90 min
Das Projekt ist Teil von Kanadas Kulturprogramm als Ehrengast der Frankfurter Buchmesse 2020/21 und wird von Telefilm Canada unterstützt.
ENGLISH
On 21 and 23 October, A Wall is a Screen, in cooperation with the three Canadian film festivals Vancouver International Film Festival, imagineNative and REGARD, presents Canadian short films as part of a unique short film walk on the walls of downtown Frankfurt. The audience moves together with the projection team from wall to wall and thus from film to film, each film of the short film programme is specifically selected for its projection location. A Wall is a Screen creates a new context for short films and puts supposedly familiar places in the city in a new light for ten minutes before moving on to the next location - the ultimate pop-up cinema! 
This temporary symbiosis between film and architecture creates new perspectives and visually connects Frankfurt's city centre with Canadian short filmmaking.
The starting location will be announced after registration.
Duration: approx. 90 min
The project is part of Canada's cultural programme as Guest of Honour at the Frankfurt Book Fair 2020/21 and is powered by Telefilm Canada.