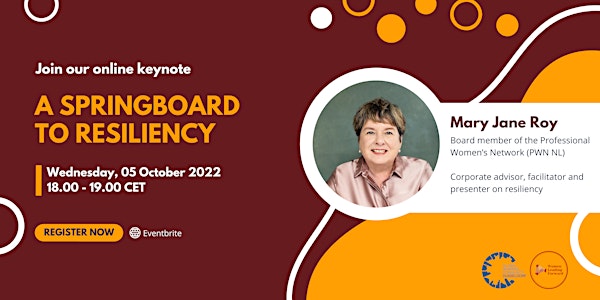 A Springboard to Resiliency - How to build your resiliency muscles
We are all facing unprecedented challenges in our lives. More than ever, we need the resiliency which will enable us to thrive!
About this event
Join our session "A Springboard to Resiliency" to learn expert tips on how to build your resiliency muscles. In this talk, our speaker Mary Jane Roy will share with you science-based tips and knowledge to develop resiliency.
Mary Jane is a corporate advisor, facilitator and presenter on the topic of resiliency. She is also a longtime member of the Professional Women's Network (PWN NL) and served on their board for 7 years. She co-authored and published a book this past January entitled: 'Ready for Female Leadership: The Future is NOW!' The book is an anthology of essays by a diverse group of 28 co-authors. It is a must read for all genders.
Join us to learn practical tips from Mary Jane to apply resiliency to your everyday life!
Event details:
Date & time: 5th October, 18.00 - 19.00 CET
Online event via Zoom. Zoom link will be provided upon resgistration on eventbrite
The event is organized by Global Shapers Düsseldorf as part of the Women Leading Forward project.
—
About the book 'Ready for Female Leadership: The Future is NOW!' co-authored by Mary Jane Roy: Seven pillars are addressed in the book: Men as Allies; the Financial/Emotional/Data-Tech Intelligences; Mentoring/Sponsoring; Networking; and Career Development. It includes essays promoting why it's so important for all of us to develop gender inclusive leadership qualities.
The book is published by the Ready For Female Leadership (RFFL) Foundation in the Netherlands and is available for purchase on Amazon. All profits from the book are directed to another foundation, Feminenza.org, which supports (young) women in developing their leadership skills. The RFFL foundation greatly appreciates any and all who purchase this book. Not only will you benefit from it but you are helping others to benefit as well.
—
About Global Shapers Düsseldorf: The Global Shapers Community, as part of the World Economic Forum, is a worldwide network of hubs led by young individuals (18-30 years) to improve the state of their local communities. The Düsseldorf Hub activities are focused on the great public good in and around Düsseldorf and have not-for-profit character.