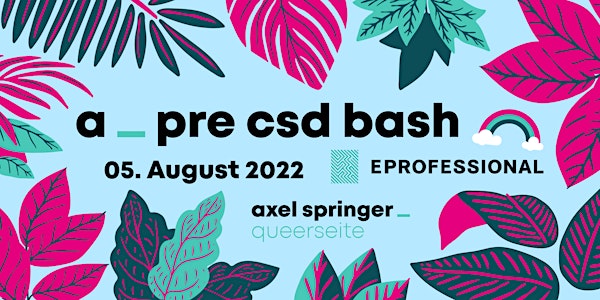 a_ Pre CSD Bash | Axel Springer queerseite_ x EPROFESSIONAL
All Axel Springer and its units' employees are cordially invited to our a_ Pre CSD bash in Hamburg the day before the city's CSD 2022
When and where
Location
EPROFESSIONAL GmbH Heidenkampsweg 74-76 20097 Hamburg Germany
About this event
Together with queerseite, the team at EPROFESSIONAL has prepared an evening of fun, drinks, snacks, socializing and summertime goodness on our rooftop terrace and at our office space in Hamburg-Hammerbrook for you to enjoy the day before the Christopher Street Day Parade in Hamburg.
Please join us from 6:30 p.m. onwards (Axel Springer and its subsidiaries employees only). Make sure you are on time and arrive before around 7 p.m. since we can not ensure a later entrance to our office space.
In case you can not make it that evening (aww), but have already registered, please let us know by cancelling your Eventbrite ticket so that we can properly plan ahead.
Don't forget to register with your work e-mail address. Otherwise your ticket will be canceled.
Since Covid is still a topic, we highly recommend for you to get tested that day to ensure safe partying.
Agenda
6:30 - 7 p.m. | Arrival and registration at the EPROFESSIONAL office
ca. 7:15 p.m. | Welcome by Axel Springer queerseite_ and EPROFESSIONAL
ca. 7:30 p.m. | Let's party!
Directions
S3/S31 Hammerbrook City Süd
U2/U3/U4 & S1/S2/S11/S21 Berliner Tor
Bus 112 / Bus 154 Wendenstraße
Bus 25 / Bus 154 Süderstraße
The parking situation is not very good around here. We recommend to travel with public transport.
It is the black building with the rainbow front on the ground floor next to the OLYMPUS building.
Please ring the doorbell with the arrow buttons, enter the building and make a right turn to the elevators and come up to the 7th floor.
We are happy to welcome you very soon!
Deutsche Version:
Zusammen mit queerseite hat das Team von EPROFESSIONAL einen Abend voll Spaß, Drinks, Snacks, Netzwerken und guter Sommerlaune auf unserer Dachterrasse und dem Office vorbereitet als Einstimmung auf den Christopher Street Day 2022 am darauf folgenden Tag.
Gesellt euch also zu uns ab 18:30 Uhr (ausschließlich für Mitarbeitende von Axel Springer und den Tochterunternehmen). Bitte stellt sicher, dass ihr bis rund 19:00 Uhr alle eingetroffen seid, da wir danach einen Zugang ins Büro nicht mehr sicherstellen können.
Falls Du an dem Abend doch nicht teilnehmen kannst, storniere bitte dein Eventbrite-Ticket, damit wir das gut einplanen können.
Vergiss nicht, dich mit deiner Arbeits-E-Mail-Adresse zu registrieren. Alle anderen Tickets werden sonst von uns wieder storniert.
Weil Covid uns alle immer noch begleitet, empfehlen wir tagesaktuelle Tests.
Agenda
18:30 - 19:00 Uhr | Ankommen & Registrierung
ca. 19:15 Uhr | Willkommen von queerseite und EPROFESSIONAL
ca. 19:30 Uhr | Let's party!
Anfahrt
S3/S31 Hammerbrook City Süd
U2/U3/U4 & S1/S2/S11/S21 Berliner Tor
Bus 112 / Bus 154 Wendenstraße
Bus 25 / Bus 154 Süderstraße
Die Parksituation ist hier nicht so gut. Wir empfehlen deswegen die Anreise per ÖPNV.
EPROFESSIONAL sitzt in dem schwarzen Gebäude mit der Regenbogenfarbenen Front unten und gegenüber als direkter Nachbar von OLYMPUS.
Bitte klingel mit den Pfeiltasten bei EPROFESSIONAL. Betrete das Gebäude und biege rechts ab zu den Fahrstühlen. Komm' zu uns in den 7. Stock.
Wir freuen uns schon auf Dich!