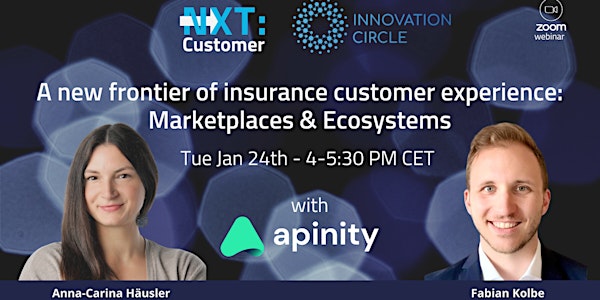 A new frontier of insurance customer experience: Marketplaces & Ecosystems
Join us for NXT:Customer Innovation Circle !
About this event
In a highly insecure multi-crisis environment paired with technology and connectivity dominating all areas of life, customer expectations towards the insurance experience are rapidly changing.
How can insurers provide the right products to meet these changing customer demands? How can digital marketplaces or ecosystems enable insurers to serve their customers better and redesign customer experiences with lower cost?
Join us for the NXT:Customer Innovation Circle on January 24th where we bring together perspectives from insurers and technology providers like Apinity to zoom in on the marketplace opportunity for creating cutting-edge customer journeys.
Agenda
04:00 PM Welcome & Intro by Esther Eva Prax and Dr. Reinhard Saller
04:10 PM Best customer experience - why and how a marketplace empowers you
Anna-Carina Häusler, Managing Director at Apinity
Fabian Kolbe, Business Development Manager at Apinity
04.45 PM Q&A
05:00 PM Closing Words