A N O M A L I E - verschoben in den Februar / Postponed / new date soon!
A N O M A L I E - X-mas Rave Hamburg - 2G+ Event - Get your wild dress on and become a member in Santa's dark book ;)
About this event
A N O M A L I E - Event verschoben in den Februar / postponed into February
Grund: Coronabedingte Clubschließung / Reason: Corona restrictions
Neues Datum wird bald bekannt gegeben. New date will be announced soon.
X-mas Rave
LINE-UP
23:00 - S.H.A.E.
00:30 - Nina Hepburn
02:00 - Mark Stanton
03:30 - Heerhorst / Mould
05:30 - LIZZ
Wichtige Hinweise für unsere Gäste:
Dear Techno Lovers! 🖤
Wir von A N O M A L I E möchten unseren Gästen eine entspannte, ausgelassene und sorgenfreie Partynacht bieten.
Für uns stehen Musik, Liebe, Kunst, Toleranz und Individualität, an oberster Stelle. Damit dies möglich wird, gibt es bei uns bestimmte Verhaltensregeln.
Unsere Events sind kein Ort für Rassismus, Homophobie, oder jedwede Art der Diskriminierung. Unsere Partys verkörpern und zelebrieren die Freiheit sich selbst individuell zu entfalten.
Wir wünschen weder aggressives Verhalten, noch Belästigung anderer Gäste. Seid bitte respektvoll Anderen gegenüber und respektiert ihre Grenzen. Das Filmen oder Fotografieren auf der Veranstaltung ist nicht gestattet.
Verstöße gegen diese Rahmenbedingungen, führen zum sofortigen Ausschluss von der Veranstaltung und zukünftigem Ticketverkauf.
Als Ansprechpartner für jegliche Anliegen, steht euch unsere liebe Doreen (Admin Telegram) (@holy.dodi) jederzeit vor Ort zur Verfügung.
WICHTIG:
Auf unseren Partys gibt es einen Dresscode!
NO STREETWEAR! - Rave, black, fetish, kinky, sexy, nude - whatever you feel - just be creative! 🖤⛓
Wichtiger Hinweis:
Stark alkoholisierte, oder unter starkem Drogeneinfluss stehende Gäste, sowie Gäste, die den Dresscode nicht einhalten, können leider aus Gründen der Sicherheit und des Wohlbefindens anderer Gäste, trotz Ticket, nicht hereingelassen werden.
Das Event ist wie üblich 2G+ und ab 18 Jahren.
Am Einlass wird der digitale Impfnachweis, der Personalausweis, sowie die LUCA App benötigt. 2G+ (ein tagesaktueller Negativtest ist ebenfalls erforderlich) Ohne diese Dokumente, dürfen wir euch leider aus rechtlichen Gründen nicht hinein lassen.
Wir bitten um euer Verständnis 🖤
Wir freuen uns schon sehr darauf, mit euch zusammen eine fantastische Party feiern zu dürfen!
A N O M A L I E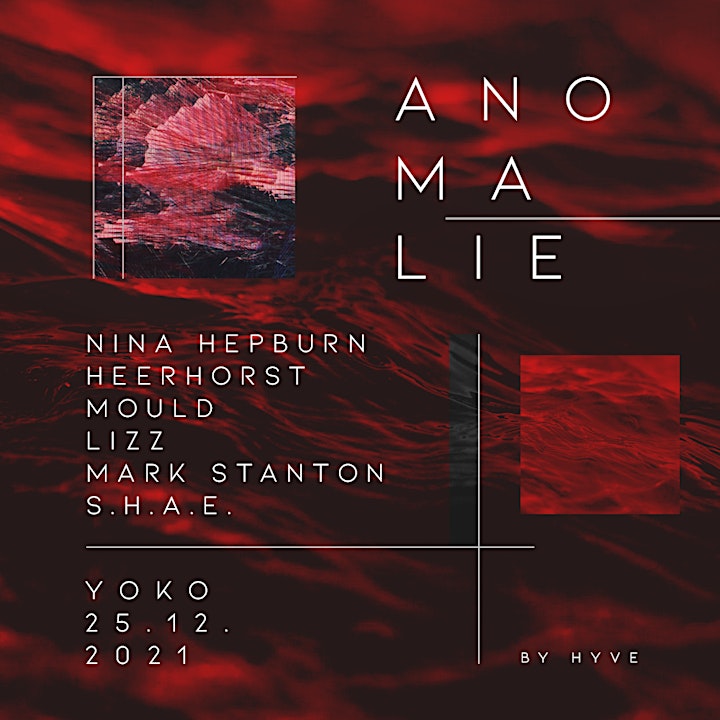 Organizer of A N O M A L I E - verschoben in den Februar / Postponed / new date soon!