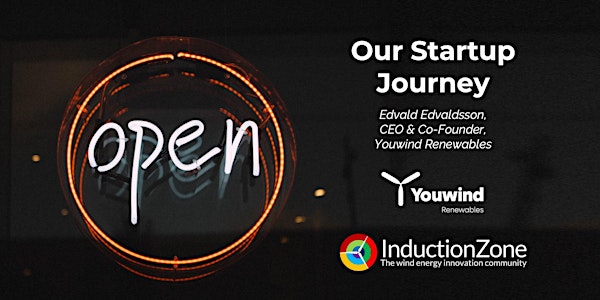 A Founder's Story: Edvald Edvaldsson, Youwind Renewables
Ever wondered what it's like to be a startup in wind energy? Join us to hear from Edvald Edvaldsson, Youwind Renewable's CEO & Co-Founder
About this event
Join us to hear from Edvald Edvaldsson about Youwind's journey from idea to successful business.
In this short presentation and moderated discussion we'll hear from Edvald Edvaldsson, founder and CEO of Youwind Renewables.
Youwind renewables is an engineering company that provides IT solutions, consulting services and workshops for the Offshore Wind Industry. Their areas of expertise are early stage screening, development, budgeting and contract negotiations when designing offshore wind projects.
Edvald had the idea of creating the Youwind platform after wondering why companies and consultants spend ages finding data and sorting out spaghetti spreadsheets and started the core development of the now commercial IT-solutions to provide disruptive time savings in project development.
The Induction Zone Speaker Series
Induction Zone is the wind energy startup and innovation community, operated by enviConnect. Our goal is to help startups flourish in the wind energy sector by encouraging entrepreneurialism and making it easier for established companies engage with startups. Find out more at talk.inductionzone.org.
Our speaker series is an opportunity to hear from founders, entrepreneurs, technology transfer experts, potential industry customers and others about how to turn ideas into startups, and how to help established businesses apply that innovation. Check out upcoming events at talk.inductionzone.org.
We're always looking for more speakers, so please get in touch if you'd like to share your experience.

Data protection and privacy
By registering for this event you agree to Eventbrite's privacy policy.
During the registration process you may be asked to share certain personal information such as your name, email address, and other information with the organisers. This information is required for us to deliver the event. We promise to only use your information to communicate with you about this event.