A-CSM Mentoring -ScrumAlliance -Advanced Certified ScrumMaster -English
This Mentoring leads you to the A-CSM certificate by ScrumAlliance with real life practical exercises, additional input and discussions!
About this event
What characterizes an Advanced Certified ScrumMaster?
The Advanced Certified ScrumMaster, short A-CSM, masters Scrum, can lead from the role of a ScrumMaster on a Scrum-Team and can teach others in Scrum. They understand the background and can drive the change in their multi team environment. The know about the core competencies of a ScrumMaster in the areas of facilitation, coaching, and training and have applied them in appropriate situations at their workplace. A-CSMs know about advances techniques to support their Product Owners, Developers, and the organization in their transformation. The know about their own weaknesses and strengths and are aware of their personal development and improvement plan.
What will we do in the A-CSM-Mentoring-Program?
Participants learn about the learning topics along the Scrum Alliance defined learning Objectives, in support with the provided material, further literature, and the entire world of the internet. The mentoring group meets in regular intervals for inspection and adaptation of their insights and challenging discussions for widening and deepening of the learnings.
After fulfillment of the Learning Objectives and all other requirements the participants received the A-CSM certificate by Scrum Alliance.
Who is leading this Program?
This mentoring program is offered and delivered by Anja Stiedl.
Anja is a Scrum Alliance Certified Enterprise Coach CEC and Certified Team Coach CTC. She is also Path-to-CSP-Educator and member of the CTC-Review-Team. Since 2017 she is ICAgile authorized instructor for ICP, ICP-ATF, ICP-ACC, ICP-LEA, and ICP-PDV.
Anja supports organizations in their adaptation to fast changing markets and their transformation to agile and self organizing ways of working. She accompanies leaders and individuals on their learning journey to build up the knowledge and skills, that are required and demanded for their new role and their new understanding of collaboration.
What do participants say?
Here are participant quotes for the A-CSM program:
Tajamul H.: "I have had really very fruitful time during the course and Anja has very experienced coaching experiences and this helped me understand many novel interesting topics in Agility. She has a friendly as well as a professional coaching style plus she executes the exercises and exams in a highly interactive fashion. I express my humble gratitude for her support and help me passing the A-CSM course.''
Who should attend??
- ScrumMaster, who want to learn more about Agility, Scrum, Facilitation, Coaching, and how it all plays together, for the developers, the Product Owners and the Organization.
- Agile Coaches, who know this all, who dare to challenge their own Knowledge in the discussion with a Certified Agile Coach, and who want to fill their knowledge with the missing puzzle peaces, in order to demonstrate their skills and competencies with the A-CSM-certificate.
- Agile Leaders and Agile Consultants, who want to distinguish their competencies in the market.
Which topics are covered in the A-CSM-Mentoring-Program?
- Lean / Agile / Scrum - how does it belong together and what can we learn from it?
- Core Competencies of a ScrumMaster - Facilitation, Coaching, and Training. We deepen on the topic of coaching by analyzing the mindest and principles of a coach, meeting a framework for a coaching conversation, and finding several appropriate and fitting questions.
- Service for the Developers - We learn on self organization and team dynamics, and valuable models to apply and use. Further on we work with the use of the Definition-of-Done and Agile Development Practices.
- Support to the Product Owner - We learn techniques for formulating the product vision, for product Backlog refinement, and stakeholder management, so that we can challenge and support the Product Owner in his role and accountability.
- Service to the Organisation - Agile scaling methods, as well as organizational development determine this section. Get to know 4 scaling frameworks analyze their unique selling points.
- ScrumMastery - Become a ScrumMaster-Champion! Reflect on your strengths and weaknesses and define your own development path!
Note:
This program ist available as individual 1:1 mentoring or open group mentoring program. Contacte me for inhouse program!
Through the flexible structure you can start any time!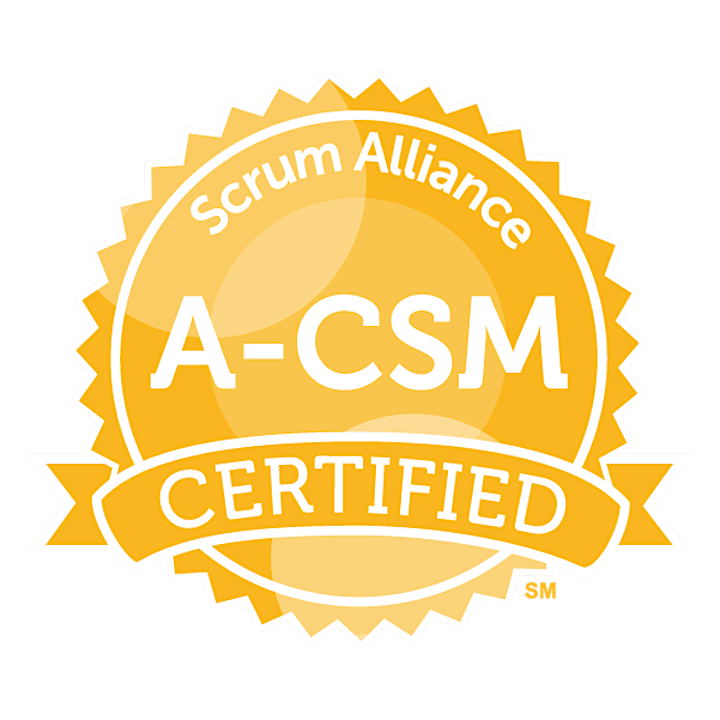 Organizer of A-CSM Mentoring -ScrumAlliance -Advanced Certified ScrumMaster -English
Anja Stiedl is a experienced Enterprise Agile Coach, Trainer and Speaker with expertise in individual, group, and professional coaching and development. She brings in her long term experience in facilitating major organizational transformation change.
Anja is a Scrum Alliance Certified Team Coach (CTC) since 2018, as well as a Certified Enterprise Coach (CEC) since 2020. As a Path-to-CSP-Educator she offers mentoring-programs since 2019 and serves the CTC-review-team since 2020.
Anja's mission is to enable the change that you need.
For any questions please contact me at / bei Fragen bitte hier Kontakt aufnehmen:
contact-me@moccasoft.com | fon: +49 8251 88 54 67