Dieses Event ist beendet.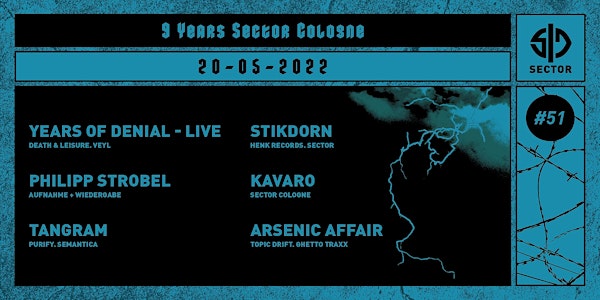 9 Years Sector Cologne │ Years of Denial - LIVE │ Philipp Strobel [A+W]
9 Years Sector Cologne │ Years of Denial - LIVE │ Philipp Strobel [A+W] at Artheater Köln - 20.05.2022 - 23:59.
Zeit und Ort
Veranstaltungsort
artheater Ehrenfeldgürtel 127 50823 Köln Germany
Karte und Wegbeschreibung
Rückerstattungsrichtlinie
Keine Rückerstattungen
Zu diesem Event
with:
▲ Years of Denial - Live | Death & Leisure. Veyl
▲ Philipp Strobel | Aufnahme + Wiedergabe
▲ Tangram | Purify. Semantica
▲ Arsenic Affair | Topic Drift. Ghetto Traxx
▲ Stikdorn | Henk Records. Sector
▲ Kavaro | Sector Cologne
By purchasing a ticket, you accept the club's Covid-19 access rules.
Due to the current situation in Ukraine we will donate a part of the income to "Ärzte ohne Grenzen".
Info:
Years of Denial creates a deeply immersive atmosphere, and is abundantly vigorous to keep dancers on their toes and moving from the night's darkest corners to the dawn of day. Years of Denial is the alter-face of French musician /DJ /producer Jerome Tcherneyan and Czech performance artist/DJ/producer Barkosina Hanusova. With the use of hardware combined with vocals and a plethora of dub devices, YOD are re-visiting the dark corner of Post Punk, Industrial music movement and Rave culture. Their live Electro performances fuse repetitive beats and pulsating arpeggios with heavy electronics and spacey psychedelic sonic treatment. Barkosina's voice echoes and oscillates against snares, profound and wounded at once. Her dark romanticism and narrative poetry take us to unknown yet familiar places. The duet operate on the dance floor without anesthetic creating an excursive electrifying shady atmosphere. (Source: Altaragency)
Philipp Strobel is the owner of aufnahme + wiedergabe, Berlin-based record label, co-founder of Endorcism and DEATH # DISCO, Berlin-based club nights. We still remember his DJ set from 2018 at the Sector - Aufnahme + Wiedergabe Night very well!
Beside our Sector residents Stikdorn and Kavaro, Tangram will support us on the Basement Floor. Fortunately, as a result of his past live gig at Sector, he has now already released on Svreca's well known Semantica Records. He also releases on his own label Purify and runs the Arclab Mastering Studio. Arsenic Affair (Topic Drift, Ghetto Traxx) will provide us with fine techno and house tunes at the Artheater Cafe. We are very thankful for his excellent graphic works for Sector Cologne over the past years.