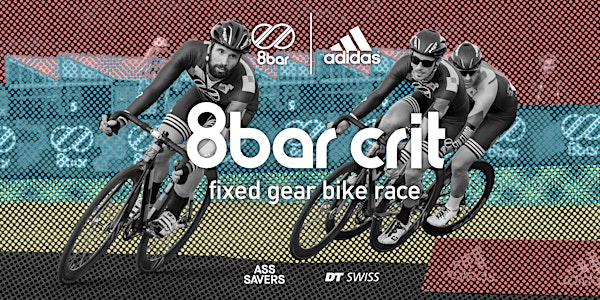 When and where
Location
Tempelhofer Feld Oderstraße 12101 Berlin Germany
Description
ENGLISH BELOW

Am 05. August 2017 kommt das 8bar Crit zurück auf das Tempelhofer Feld. Mit einem noch spannenderen Rennmodus sind Action und Spaß auf und neben der Strecke garantiert! 8bar baut wieder einen schnellen und zugleich technischen Kurs von 1000m Länge auf.
>> Zum ersten Mal wird es zudem ein Rennradrennen geben. <<
Qualifikationslauf:
Im neuen Qualifikationsmodus startest du in einer der Qualifikationsgruppe dein Qualifikationsrennen über 5 Runden. Neben dem Sieg musst du auch noch die schnellste Qualifikationszeit haben um ganz vorne zu starten.

Frauen:
Mit einer guten Position in deinem Qualifikationsrennen über 5 Runden startest du entsprechend weit vorn im Startblock. Die Siegerin der schnellsten Qualifikation startet von Position 1 im Finale. Das Finale wird über 20 Runden (20km) ausgetragen.

Männer:
Alle Starter werden nach dem Zufallsprinzip auf 5 Startgruppen aufgeteilt. Die jeweils schnellsten 16 Fahrer in den 5 Qualifikationsrennen - über jeweils 5 Runden - kommen ins Finale. ALLE anderen haben die Chance sich im "Last Chance Race" (über 15 Runden) zu beweisen. Die Top10 qualifiziert sich ebenfalls. Das Finale wird dann über 30 Runden (30km) ausgetragen.

Teilnahme - Voraussetzungen:
Rennradlenker/ Dropbar mit Lenkerband und Abschlüssen. (Keine Riser oder Bullhorn-Lenker.)
18 Speichen minimum // Keine tri-spokes, keine Scheiben.
Klickpedale mit intakten Cleats - Keine BMX Pedale.
Helmpflicht

Zusätzliche Voraussetzungen für Fixies:
keine Bremsen montiert
Übersetzungsempfehlung: 48x15 oder vergleichbar
-------------------------

The 8bar Crit will be back this year on the Tempelhofer Airfield at the 5th of August 2017. We gonna spice up the race mode to make it even more exciting for everyone on and beside the track. The course will be technical with sharp turns and hairpins with a total length of 1000m.
>> This year there will also be a road bike category. <<
Qualification:
With the new qualification format we set up different qualification groups which will all run a qualification race of 5 laps. The winner of the fastest heat will start all the way at the front in the final race.
Women:
With a good result in your qualification race over 5 laps you'll ensure to start up front in the field. The winner of the fastest qualification race will start from the pole position in the final. The final race will be held for 20 laps (20km).

Men:
All attendees will be randomly spread within five qualification heats. The fastest 16 riders of each qualification race will move to the final directly. EVERYONE else gets the chance to race the "Last Chance Race" (15 laps) and the Top10 will be qualify for the main event as well. The final race wil be held over 30 laps (30km).
You & Your Bike:
drop bars with bar tape and bar ends - no riser, no bull horn.
18 spokes minimum // no tri-spokes, no discs.
clipless pedals with proper cleats - no platform pedals.
gear ratio: 48x15 or similar.
no helmet, no race!

Additional fixed gear bike requirements:
no brakes
gear ratio: 48x15 or similar

Registration:
Online-registration on Eventbrite will be open until August 3rd or until all spots are filled. Registration at the race will be possible, considered there're free spots available. We support women racing with a reduced starting fee and we're convinced we'll see once again the biggest women filed in a german fixed gear crit. Even though you don't need to have a friend to sign up with, we still suggest you encourage them all to race together with you! ;)