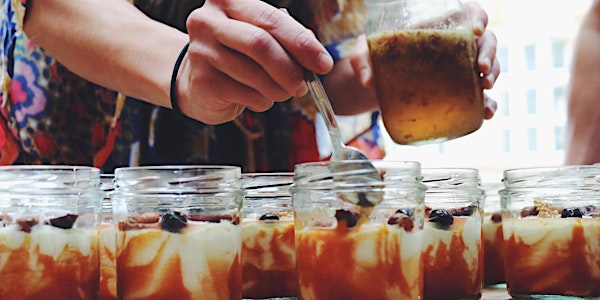 52 Seasons - Fermentation & Foraging Multi-course Dinner Experience
Location
Edible Alchemy in the Remise
Moosdorfstraße
7-9
12435 Berlin
Germany
Refund policy
Refunds up to 1 day before event
Edible Alchemy presents a unique multiple-course fermented and foraged dinner: 52 Seasons.
About this event
Edible Alchemy presents a multiple-course fermented & foraged dinner: 52 Seasons. Each week offers us something new to harvest. We harvest roots, rhizomes and tubers from the ground. Fruits, leaves, flowers and seeds from above. We even harvest and use the natural yeasts on the skins of these components to work together and create complex and deep flavours. And of course we have a whole microbial circus at the ready to be let loose on any of these 52 seasons!
This dinner is an explosion of flavours and nutrition and is our way to share the stories with the aged and developed foods and drinks that have been ripening and brewing for the last years (fermentation), very often made from local plants harvested by us in season (foraging).
The evening will consist of a multi-sensoric dinner – tasting, smelling, seeing, hearing, touching – with edutaining (educational and entertaining) storytelling about each dish – how and why it came to be on your "plate". Or leaf or rock or twig-skewer.
Please bring your curious taste-buds and open minds to explore with us the microbial world of fermentation and foraging.
The dinner will take place at Edible Alchemy's current loft location at MOOS in the Remise at Moosdorfstraße 7-9.
6:00-6:30 pm - Arrival and welcome drink.
6:30 pm - First course and introduction to the evening's adventure
Afterwards - Let the deep flavours draw you in with our theatrical story telling of the meals' origin and development
The menu consists of multiple vegetarian courses with accompanying drinks and other multi-sensoric surprises.
alexis@ediblealchemy.co
Spots are limited
----
ATTN: This is a 2G event i.e. fully vaccinated or recovered (Deutsch: Geimpft-Genesen) ---- We will be checking at the door.
Please contact us directly if you would like to pay alternatively - we also accept circles (CRC).