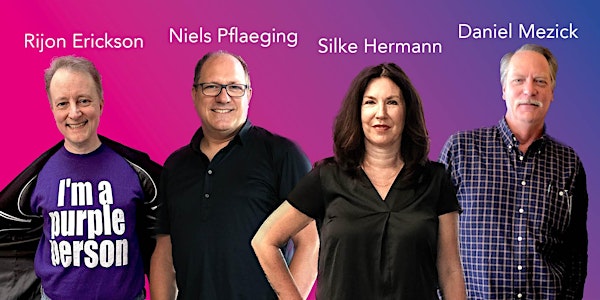 5 years of OpenSpace Beta – an anniversary celebration
A close look at the past, present & future of very fast organizational transformation
Date and time
Friday, June 2 · 9 - 10:30am PDT
About this event
1 hour 30 minutes

Mobile eTicket
A conversation with Silke Hermann, Niels Pflaeging and Daniel Mezick. Host: Rijon Erickson
WHY SHOULD YOU ATTEND? This online live event will celebrate the 5th anniversary of the OpenSpace Beta approach, which allows "very fast organizational transformation." Silke Hermann, Niels Pflaeging and Daniel Mezick will look back to the events in Portland/Maine in 2018 that led to the creation of OpenSpace Beta, and reflect upon what has been accomplished since then.
Together with the session's host, Rijon Erickson, Silke, Niels and Daniel will also discuss perspectives of very fast organizational transformation, share insights gained from their transformation work with OpenSpace Beta, and look at practical challenges - yesterday, today and tomorrow! During the final section of the event, the four will answer participant's questions with regards to OpenSpace Beta and very fast organizational transformation.
This event is part of the #BetaCodexLIVE event series.
EVENT DURATION. Total session duration will be approximately 90 minutes.
After the 90 minutes of the "official event", we will do an unrecorded "after party" event. So you can stay on and have a conversation with Silke, Nieks, Dan and Rijon.
FORMAT. This event will be run on Zoom and recorded.
FOR MORE INFORMATION ABOUT OPENSPACE BETA, check out the OpenSpace Beta page on the Red42 website!
For all inquiries: contact claudia.keller@redforty2.com
Please share this invitation with colleagues, peers and friends!