Part 2 of 5 'virtual learning experiences' focussing on 5 designerly WAYZ to design meaningful futures REMOTELY.
Zu diesem Event
On April 28th we continue with our 'virtual learning experiences' focussing on 5 designerly ways to design meaningful futures REMOTELY.
This is the second part of a five day webinar series. Jeremias Schmitt and Helmut Ness will introduce you to 5 designerly WAYZ to transform your brand and business. Making remote experience is key and crucial for everyone working in creative environments or needs to collaborate with creative agency today and in the future.
But wait a minute: 5 designerly WHAT? What the hack are they talking about?
A creative agency has to go way beyond excellence and beauty in design. So we decided to introduce 5 designerly WAYZ as a mindset to manage creative transformations:
Gaining empathy to find your purpose,
Crafting clarity by taking on an entrepreneurial mindset,
Triggering imagination to discover new business opportunities,
Creating experiences to build remarkable identities,
Enabling a team to deliver unique experiences.
But first things first: What are the learning objectives of this format?
Enabling others and hosting exercises remotely.
Gathering insights on exercises that introduce a new approach.
Getting familiar with remote tools, in particular: Zoom and Mural.
Building a 'community of practice' and learning from each other.
Each session follow a similar structure:
15' Welcome/Warm-up
15' Presentation
15' Introduction of Activity
30' Activities in small teams
15' Sharing of outcomes
15' Reflection and shared learnings
15' Check-out
The details/ pre-requisites:
We will meet at 2 pm for a little-get-to-know-each-other.
Be ready to zoom: Zoom link will be provided once you are registered. (If you don't have an account yet, please register here: https://zoom.us/)
We are using Mural as a 'Virtual Whiteboard' for teams either sign-up or request a link as a guest to our workspace and get accustomed to the tool.
Register here for the SECOND of five events.
Please consider that this is just a starting point and a mutual learning experience. We would highly appreciate to embark on this journey with you as co-pilots.
Lots of love,
Get to know our hosts on LinkedIn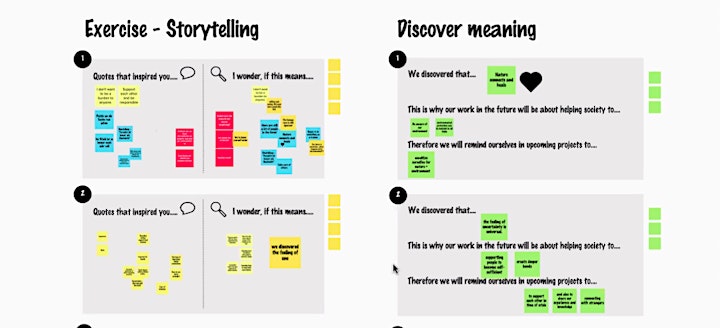 Datum und Uhrzeit
Veranstaltungsort