Event Information
Location
KPMG Advisory N.V.
1 Laan van Langerhuize
1186 DS Amstelveen
Netherlands
Description
Disclosure for the Green, Inclusive & Open Economy – Blueprinting the Future
The Reporting 3.0 Operations Team and Steering Board are excited to invite you to the 4th International Conference of the Reporting 3.0 Platform! After three exciting conferences held in Berlin, we are pleased to announce the 4th edition in Amsterdam, The Netherlands. KPMG has kindly offered to hold the event at their iconic headquarters, offering top-notch conferencing space and technical capabilities.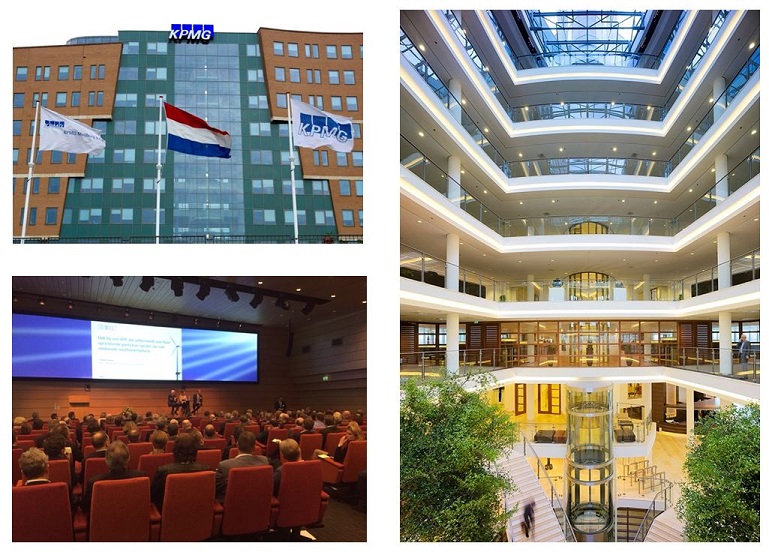 With recent events steering the world toward a more brown, exclusionary & closed economy, the need for international alignment and a roadmap for the future of reporting that spurs the emergence of a truly green, inclusive & open economy is now more timely and urgent than ever. While the majority of reporting movements have increased the focus on compliance towards regulatory and quasi-regulatory approaches (e.g. EU Directive, stock exchange and rating requirements), Reporting 3.0 builds on the foundation of existing initiatives to propose a more ambitious and transformative approach, "blueprinting" the necessary paths to actually achieve a green, open & inclusive economy.
This 4th International Conference will showcase the shift of Reporting 3.0's focus – from early exploration of what needs to be done in the future reporting and disclosure space, to the implementation of actual recommendations of the Reporting 3.0 Blueprints. The focal content of the Conference will be the four Reporting 3.0 Blueprints, each in a varying stage of development.
The Reporting Blueprint and Data Blueprint are the most mature, as both reports are slated for final release at the Conference.

The Accounting Blueprint will be releasing its first Exposure Draft; and

The New Business Models Blueprint will be launching at the Conference
The Conference will spotlight pioneering research, case studies, alpha pilots, exposure drafts, and early partnerships from the Blueprints.
To view the newest working draft of the Program, please click here.

The Conference will finish with forward-looking discussion addressing further dissemination, alliance-building, implementation and feedback mechanisms that will gear towards a second generation of Blueprint Reports in the future. The final publication of Blueprint Report will trigger the start of Phase 2 of the Blueprints, focused on implementation of the recommendations.
We look forward to see you this Spring in Amsterdam!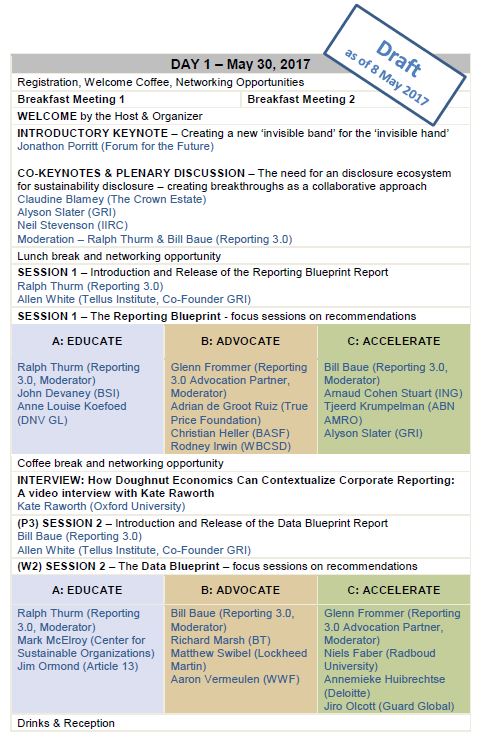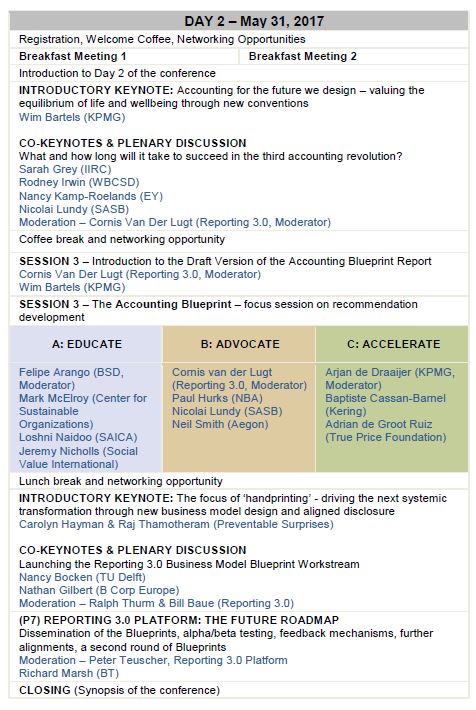 ---
If you want to have a look at past Reporting 3.0 conferences check out the 2014 and 2015 websites.
---
Reimbursement policy:
Reporting 3.0 will reimburse 50% of the paid fee in any case of cancellation by not later than April 15, 2017, and 25% in case of cancellation by April 30, 2017. Registrations that will be cancelled after April 30 will not be reimbursed.
hello@reporting3.org
Date and time
Location
KPMG Advisory N.V.
1 Laan van Langerhuize
1186 DS Amstelveen
Netherlands