Dieses Event ist beendet.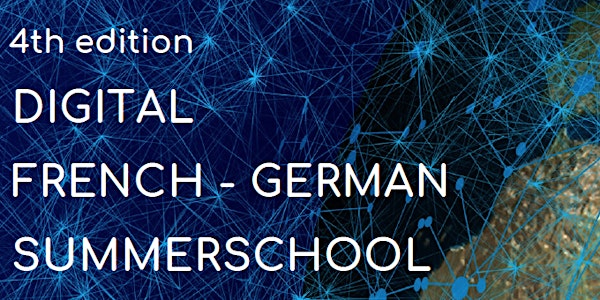 4th Digital French-German Summerschool on AI for Industry 2020
French-German Summerschool on AI for Industry
Datum und Uhrzeit
Mi., 24. Juni 2020 04:00 - 08:30 PDT
Zu diesem Event
"Innovation, European cooperation and our partnerships are stronger than a virus" have declared the organisers of the annual French-German Summerschool on AI for Industry. This is why a digital event has been conceived to replace the Summerschool initially planned to take place in France with French and German industry players, prominent researchers and French and German policy makers.
The transformed 2020 virtual French-German Summer-School on AI Engineering, AI for the Good, and Machine Learning will therefore take place digitally on 24 June.
In the morning , participants will have the possibility to watch videos sent by other participants, in the afternoon to take part remotely in a live digital plenary session.
More information on http://mlmda.cmla.fr/french-german-summer-school-for-industry-2020/
Program:
Morning Free watching of short videos (access on the video Summer-School website) from
industry partners (on how they relate to the Summer-school's topics)
academia and research (on scientific topics)
policy partners (on the French-German cooperation)
Afternoon Live plenary session
13.00 - 13:15 Register & Join the Virtual Session
13.15 - 13:50 Official opening
13.50 – 14.50 Session 1 – Machine Learning (chaired by Ecole Normale Supérieure Paris-Saclay)
Live presentation by Francois Deheeger, Michelin Lead Data Scientist, France. Hybrid model in product design.
Live presentation by Fikri Hafid, Réseau de Transport d'Electricité Head of R&D Studies, France. Machine learning use cases at a transmission system operator.
Live presentation by Michael Granitzer, Passau University Professor for Data Science, Germany. Machine Learning Engineerging and Sustainability.
Q&A on the 3 presentations and panel discussion
14.50 - 15:00 Active Break
15.00 – 16.15 Session 2 – AI for the Good (chaired by Siemens)
Live presentation by Benno Blumoser, Siemens AI Lab Munich, Germany. AI for the Good – a Corporate View.
Live presentation by Brian Tervil, CNRS research scientist, Borelli center, ENS Paris-Saclay, France. ONADAP – a visualization and decision support tool for dynamic human and material ressources allocation within hospital facilities in times of sanitary crisis.
Live presentation by Valentin KRUSPEL, Deutsche Gesellschaft für Internationale Zusammenarbeit (GIZ),Germany. Data Powered Positive Deviance and Beyond – Using AI for Sustainable International Development.
Live presentation by Julia Gottfriedsen, German Aero-Space Center (DLR) Environmental Data Science Researcher, Germany. Using Data Analytics and Machine Learning to Control Wildfire.
Q&A on the 4 presentations and panel discussion.
16.15 - 16:20 Passive Break
16.20 – 17.20 Session 3 – AI Engineering (chaired by Passau University)
Live presentation by Gianluca Bontempi, Université Libre de Bruxelles Professor and Co-Head at Machine Learning Group, Belgium. Causality and big data analytics: risks, challenges and solutions.
Live presentation by Matthias Laporte, Inspector at Banque de France, France. Self organizing maps for anomaly detection in an operational context.
Live presentation by Tobias Bürger, BMW Lead Big Data and AI Platform, Germany. Machine Learning and AI in Practice – Insights into use cases from the BMW Group.
Q&A on the 3 presentations and panel discussion.
17.20 – 17.30 Wrap-up and Closing
Organizers:ENS Paris-Saclay, France; University of Passau (Germany); Siemens (Germany)