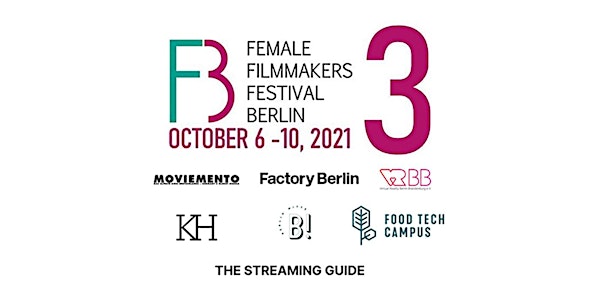 3rd Annual Female Filmmakers Festival Berlin (FFFB)
Tickets for the 3rd Annual Female Filmmakers Festival Berlin (Oct 6-10) .
When and where
Location
Factory Berlin Görlitzer Park Lohmühlenstraße 65 12435 Berlin Germany
Refund Policy
Contact the organizer to request a refund.
About this event
The 3rd Annual Female Filmmakers Festival takes place October 6-10, 2021 at various locations throughout Berlin, Germany. Film goers are advised to arrive 20 minutes before scheduled event times. THIS LINK IS FOR Female Filmmakers Festival Berlin panels and screenings that take place at Factory Berlin Görlitzer Park(OCT 8) and SOHO HOUSE Screening Room (OCT 10). The Female Filmmakers Festival Berlin is a non profit entity amplifying the voices of women behind the lens and paving the way for the future of film. Limited tickets are available. We encourage you to purchase your tickets due to limited capacity.
OCT 6, OCT 7 & OCT 9 - FFFB film tickets can be found on Moviemento starting SEP 23, 2021.
OCT 8 - Screening Tickets for Factory Berlin Görlitzer Park are inclusive of screening + cocktail. The "She Pitched It" competition, and AR/VR Panel discussion are invite only. To screen your film or mediatech startup request a ticket, by sending an email to fffbfactory@fffberlin.org.
OCT 9 - Filmmaker Garden Party. Invite only. Request an invite. filmmaker@fffberlin.org 12:30PM - 15:00PM
OCT10 - SOHO HOUSE Awards night and Closing Film. Limited Tickets available. 19.30-21.00: SHORT FILM PROGRAMME: Experimental Films & Music Videos + Q&A
PROGRAM OCTOBER 8, 2021
16.30-17.30: Pitching Session "She Pitched it"
Pitch your next project & get selected for the next FFFB LAB! Email jewell@fffberlin.org to participate
18.00-19.00: AR/VR PANEL : The Future of Filmmaking & Mixed MediaPeggy Schoenegge (Peer To Space), Gerda Leopold (Amilux Filmporduktion), Kathrin Brunner (Myndstorm Productions Berlin), Maria Courtial (Faber Courtial)Moderated By: Jewell Sparks (Female Filmmakers Festival Berlin / BITHOUSE GROUP)
19.30-21.00: SHORT FILM PROGRAMME: Experimental Films & Music Videos + Q&A What started as one of our most popular sections, has been extended this year due to popular demand.
We don't only show you breath-taking experimental works from around the world, along with a unique selection of music videos, but also take you into the world of fashion with some impressive and without a doubt, aesthetically- pleasing masterpieces, which will make you yearn for more.
"Lost Time" (3min) (UK)- dir. Anna Radchenko"Heavy Rotations" (4min) (Germany) - dir. Maren Sosada"The Horse Guessing Game" (9min) (China)- dir. Leilei Xia"Material" (3:30min) (Germany)- dir. Ada Grüter"Fenice" (5min) (Italy)- dir. Giulia Achenza"Unshackled episodes" (3min) (Austria)- dir. Mira Gregorič, Mirjam Sadjak"We are dying here" (25min) (South Africa)- dir. Shane Vermooten"Love Me" (USA) - dir. Amanda Phelps"Rain Like Tears" (4min) (USA)- dir. Irina Drozdova-Schastlivtseva & Liza Skvo"Dive" (4min) (Italy)- dir. Sara Bonaventura"Arena" (13min) (UK)- dir. Helen Warner
21.30-23.00: THE GREEN EDITION (FILM + COCKTAIL SESSION )Environmentally- Themed Films + Drinks & MUSICOur natural resources seem to come to an end and it becomes clear that absolutely everything is connected. Elaborate animations, thought-provoking documentaries and poetic video essays, take us on a trip around the world and bring us back to wonder what we can do to protect this fascinating planet that provides us with everything we need to survive.
"The green thread" (6:37 min) (Germany)- dir. Vanessa Cardui"Back In the Island" (4 min) (UK)- dir. Amande Valle"Thanks for all the fish" (8 min) (Poland)- dir. Naaomi Orsini Gravina"We The Seeds" (11 min) (UK)- dir. Cadhla Kennedy Ko, Amaury Barrera"Just In Case" (2.30 min) (Germany)- dir. Insa Meyer, Céline Ahlbrecht, Alina Saltheim"STALKING CHERNOBYL: exploration after apocalypse" (57 min)- dir. Iara Lee
VIP ALL ACCESS tickets can be purchased for the opening event and include an FFFB Membership which grants you access to screenings, panels, Awards Ceremony at Soho House Screening room, and filmmaker networking events throughout the Fall 2021 - Fall 2022 Membership term. " VIP All Access Pass" allows the pass holder to access the Membership party, screenings, panel discussion, and closing night Awards Ceremony and Film.
Patrons consent to be photographed/filmed during events. All ticket holders must abide to current COVID19 guidelines ( CDC Guidelines here) and prove the following upon entry.
- Negative COVID antigen test or
-Proof of recovery or
- Proof of vaccination (14 ) days post 1st shot (J&J) or 2nd shot (Astra, Moderna, BioNTech )
Imprint: Female Filmmakers Festival Berlin eV Hochstr.21, 13357 Berlin , Germany Vereinsregister Berlin Charlottenburg: VR 37396 Amtsgerichtspl. 1, 14057 Berlin
Questions? Email: office@fffberlin.org