Meet extraordinary Engineering, Robotics & AI Experts and Role Models
About this event
✨ Artificial Intelligence and Robotics go hand in hand, whether exploring space or enabling humanoid robots to walk on the Moon. As a cutting edge branch of technology, having women representation in AI and Robotics is extremely important - both for the progress of the field and to encourage younger generations to join in as well.
✨ Join us as our very own Maria Grandury, herself a Machine Learning Research Engineer, interviews Sandra Hernandez, Systems Engineer at NASA JPL, and Mihaela Popescu, Researcher at University of Bremen/DFKI (German Research Center for Artificial Intelligence) and Bremen Women in AI & Robotics core team member.
✨ Discover their journeys into the technical world, their fascinating work at NASA and DFKI Robotics and their advice for women who wish to enter STEM related fields.
✨ Sandra, originally from Barcelona, Spain, moved to the United States in 2012. Her original dream was to become a vet! A far cry from her current role as Systems Engineer, which only came about after she started working on her first car out of necessity and realized she enjoyed working with her hands and had a natural predisposition to think like an engineer! She holds a degree in Mechanical Engineering from the University of Florida and worked at Boeing and Honeywell before joining her current position at NASA.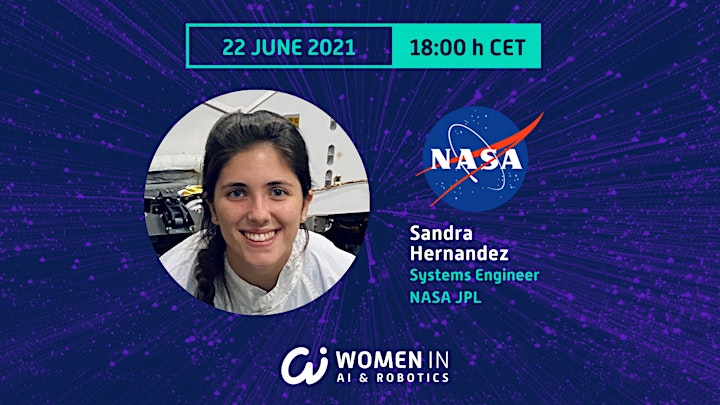 ✨ Proud to present our next speaker, our very own Mihaela Popescu originally from #Romania, currently pursuing her PhD in #Robotics at the University of Bremen #Germany.
✨ Mihaela works for space related projects with the German Research Center for Artificial Intelligence (Deutsches Forschungszentrum für Künstliche Intelligenz (DFKI)), employing state-of-the-art robotics and #machinelearning algorithms for dynamic legged robots.
✨ After graduating B.Sc. in Systems Engineering, she entered the field of Robotics in 2017 when she was granted a DAAD scholarship to pursue her master studies.
✨During her years of academic research, she worked with mobile robots for household applications, she developed machine learning algorithms for self-driving cars and she currently focuses on humanoid robot applications.
✨ We are excited to learn more about Mihaela, her journey into the tech world and her cool projects!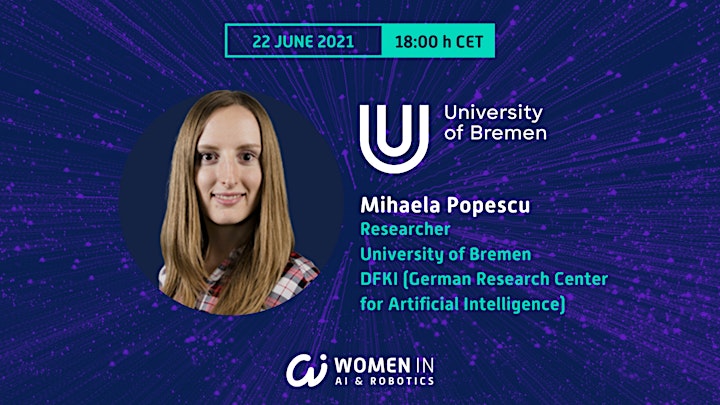 ✨ We are excited to announce our moderator for the event, our very own Maria Grandury.
✨ Maria is a Machine Learning Research Engineer focused on NLP, XAI and Robustness.
✨ She is originally from Spain and holds two degrees in Mathematics and Physics. After graduating she moved to Berlin and is currently working at neurocat GmbH where she contributes to the core of aidkit, an AIQuality and Trustworthiness evaluation tool.
✨ She believes that NLP research is too focused on English and neglects the particular difficulties of other languages so she founded "NLP en ES 🤗" - the Hugging Face community of Spanish-speaking NLP professionals - to accelerate the development of state-of-the-art NLP in her language.
✨ She is also very aware of the gender gap in her field and is part of the Core Team of Women in AI & Robotics to increase female representation and promote inclusive and responsible AI.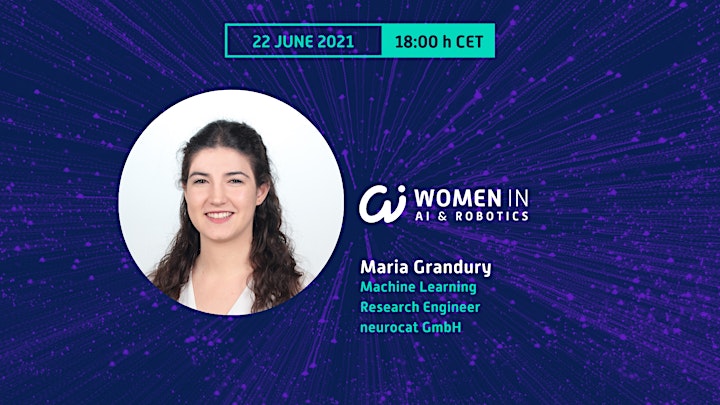 Organizer of 3 Engineering, Robotics & AI experts - Taking Center Stage