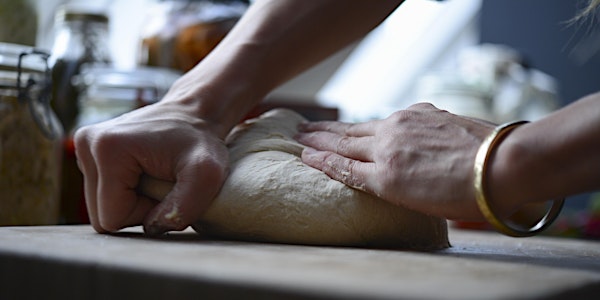 3 day Sourdough Bread Workshop with Starter and 1-on-1 consultation
Sourdough Online Course - LIVE - 3 Sessions - we will go over feeding, bread prep, and baking!
Refund Policy
Contact the organizer to request a refund.
About this event
Over the course of one week (Sunday - Saturday) we will learn all about sourdough feeding and caretaking, dough control and baking. ´´´´
How our live online Sourdough Bake Course works:
- We ship our 155 year old culture Cornelius out to you before the workshop so you have a head start and learn how to take care of your new pet!
- On the first class, we will learn all about the sourdough cultures and practice feeding it over the week.
- We will prepare a recipe together during the day going over stretching and folding methods
- We will bake together the next morning - online! :D
What does this workshop include?
- our 155 year old sourdough starter that we mail to you
- 3 online sessions
- a personal conversation with Alexis to troubleshoot and ask question about your sourdough journey, during or after the course (scheduled separately from this event)
Day 1 Sunday. 11:30 -13:00 Learning your sourdough starter. Feeding. Caretaking. Trouble shooting. Timing.
Day 2 Friday. 18- 19:30 Using an active starter for bread. Preparing a loaf together. Stretching and folding. Forming. Hydration.
Day 3 Saturday. 11:30 -13:00 Baking together. Learning how to use different ovens for great results. With or without a cast-iron pot. Trouble shooting. Questions.
I will send out a list ahead of supplies and ingredients ahead of time so we all are on the same page for day 1!