About this event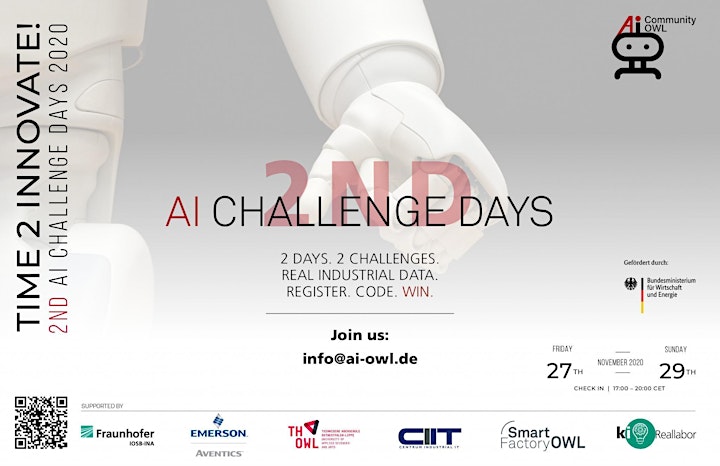 After the great success of the first online hackathon, the AICommunityOWL is now organizing the second AIChallengeDays. The community is the network for science and business in the field of artificial intelligence and offers all participants international contacts from various areas such as research and industry.
The participants have the chance to use real, industrial data from real processes to implement their own solutions and create the future. The data is provided by the CIIT partner Emerson and the KI-Reallabor from Fraunhofer IOSB-INA and represent two challenges:
1. Challenge in the field of air pressure supply / pneumatic components in industrial production
2. Challenge in the area of human-machine interaction / assistance systems
Attractive prizes and the possibility of implementing the own solutions in the KI Reallabor in the SmartFactoryOWL in Lemgo await the winners.
Participation is free of charge. The required access data will be made available in good time before the event.
Angeknüpft an die Erfolge des ersten Online-Hackathons, organisiert die AICommunityOWL nun die zweiten AIChallengeDays. Die Community ist mittlerweile das Netzwerk für Wissenschaft und Wirtschaft im Bereich Künstlicher Intelligenz und bietet dadurch allen TeilnehmerInnen internationale Kontakte aus den verschiedenen Bereichen wie Forschung und Industrie.
Die TeilnehmerInnen haben die Chance, anhand von realen, industriellen Daten von echten Prozessen, eigene Lösungsansätze zu verwirklichen und somit die Zukunft mitzugestalten. Die Daten werden vom CIIT-Partner Emerson und vom KI-Reallabor zur Verfügung gestellt und bilden zwei Challenges ab:
Challenge im Bereich Luftdruckversorgung/pneumatischer Komponenten in industriellen Produktionsanlagen
Challenge im Bereich Mensch-Maschine-Interaktion/Assistenzsysteme
Auf die Sieger warten attraktive Preise und die Möglichkeit der Umsetzung der gefundenen Lösungen im KI Reallabor der SmartFactoryOWL in Lemgo.
Die Teilnahme ist kostenfrei. Die erforderlichen Zugangsdaten werden rechtzeitig vor dem Event zur Verfügung gestellt.