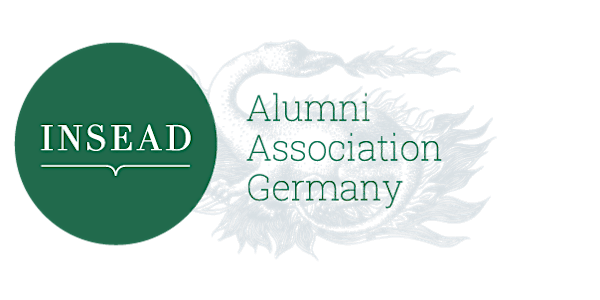 24. IAAG Entrepreneurship Forum 2023 - Corporate & Mittelstand Ventures
Join the 24th edition of the IAAG Entrepreneurship Forum!
Von INSEAD Alumni Association Germany e.V.
Datum und Uhrzeit
Fr., 23. Juni 2023 09:00 - 17:30 CEST
Veranstaltungsort
Café Reitschule Königinstraße 34 80802 München Germany
Rückerstattungsrichtlinie
Kontaktieren Sie den Veranstalter, um eine Rückerstattung anzufordern.
Zu diesem Event
8 Stunden 30 Minuten

Mobile E-Tickets
This is an event for INSEADers only. IAAG members are welcome to bring a guest/partner family.
How do we instill innovation and entrepreneurship in established organizations?
Agenda
8:30 - 9:00        Registration and Networking
9:00 - 13.00      Sharing Entrepreneurial Insights & Experiences I (incl. coffee break)
13:00                Lunch break with Networking
14:00 - 17:00   Sharing Entrepreneurial Insights & Experiences II (incl.coffe break)
17:00                Networking with drinks on the terrace
For the detailed agenda kindly contact info@insead.de
________________
We have the pleasure of hosting an inspiring combination of an INSEAD Professor and a range of successful entrepreneurs with thought-provoking experiences and  diverse perspectives on innovation and entrepreneurship within established companies, whether corporates or "Mittelstand".
We have already reached out to a number of great speakers covering a broad selection of Corporate and Mittelstand Ventures across a wide range of industries, from Industrial Goods to Consumer Goods, Media, Software, as well as Banking and Insurance.
Join this international full-day event and be part of an interactive and highly diverse group of INSEAD alumni to share success stories and learnings from firsthand experience and enjoy excellent networking.
Please note: We will have a list of participants at the event with /first and last names as well as company & function)
Über den Veranstalter
With approx 1.250 members the IAA Germany is one of the larger Alumni Associations of the INSEAD. Being a member in the IAAG is a great opportunity to meet interesting people, to connect to alumni of other promotions, build new inspiring relationships in a relaxed atmosphere of one of our numerous and versatile events. For more information on membership benefits contact info@insead.de.
Our Booking policy: Our events are only open to INSEAD Alumni, INSEAD students, faculty and staff, if not stated otherwise. Guest tickets are a membership benefit only to enable association members to be accompanied by colleagues, partners and family unless otherwise stated on the eventpage or in our invitation email. If you are unsure about you membership status, please contact info@insead.de.
To qualify for a refund, requests for cancellations must be received at least seven days prior to the event, if not stated otherwise. If there is a waiting list for an event and another alumna/us will buy your ticket, a cancellation is also possible on request. Please use the eventbrite cancellation tool for cancellations. If unsure about our cancellation policy, please contact info@insead.de.
Please also note that we will share your name (company, function and INSEAD promotion/course only when asked for during registration process on eventbrite) with our volunteers organizing the event as well as with the host of the event. If unsure about the host of the event, please contact us at info@insead.de.
Furthermore we take pictures (photography)/videos,films during our the events. These and any reproduction or adaptation thereof might be used for fundraising, publicity or other purposes that help to achieve the associations aims. In case you object to this use, please contact info@insead.de.
For web session we use Zoom. For information on their data protection please use this link.
Next to the General Terms of Use and Data Protection Information  of eventbrite our Data Protection Information for eventbrite apply.