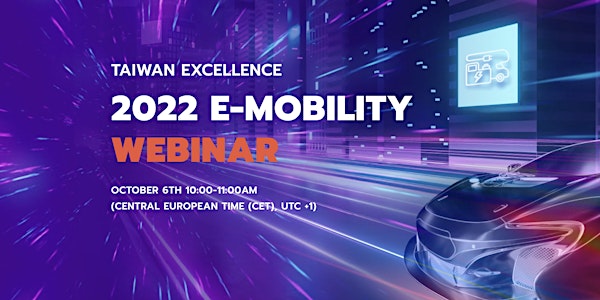 2022 E-MOBILITY WEBINAR
2022 E-MOBILITY WEBINAR Taiwan Excellence – the symbol of the most innovative Taiwanese products.
About this event
The Webinar brings you the latest E-Mobility innovations from Taiwan by four winners of the prestigious Taiwan Excellence Award: Chimei Motor Electronics Co., Ltd., Cub Elecparts Inc. (Cub), MiTAC Digital Technology and Noodoe Corporation.
Insights on the E-Mobility innovations and industry trend will also be provided by the Taiwan Transportation Vehicle Manufacturers Association and by Markus Emmert, Board Member of the German Electric Mobility Association.
You will not be able to make it October 6? No problem! Register for the webinar anyway. We will provide all registered participants with a recording of the webinar afterwards.
German:
Das Webinar präsentiert die neuesten Innovationen aus dem E-Mobilitätssektor in Taiwan von vier Gewinnern des renommierten Taiwan Excellence Award: Chimei Motor Electronics Co. Ltd, Cub Elecparts Inc. (Cub), MiTAC Digital Technology und Noodoe Corporation. Die nominierten Hersteller werden nach Produktdesign, Produktqualität, Marketing, R&D (Research and Development) sowie Produktherstellung bewertet.
Einblicke in die E-Mobility-Innovationen und Branchentrends geben auch die Taiwan Transportation Vehicle Manufacturers Association sowie ein Vorstandsmitglied des Bundesverbands eMobilität (BEM), Markus Emmert.
Über die Unternehmen:
Chimei Motor Electronics ist weltweit führend bei kamerabasierten KI-Erkennungslösungen, wie z. B. Kameras für den toten Winkel, die alle gesetzlichen EU-Anforderungen erfüllen. Die fortschrittliche Technologie kann auch bei Nacht und schlechtem Wetter eingesetzt werden.
Cub Elecparts ist ein führender Hersteller und Vermarkter von Kfz-Ersatzteilen, der sich auf die Herstellung von elektrischen Steuerschaltern und Sensoren für das Motormanagement spezialisiert hat. Cub Elecparts Abbiegeassistent, das Blind Spot Detection System und das Moving Off Information System bieten eine hochpräzise, hochauflösende und flächendeckende Radarerfassung bei allen Wetterbedingungen.
MiTAC Digital Technology ist auf die Entwicklung von kamerabasierten Lösungen sowie künstlicher Intelligenz und Technologie und Industrie-Tablets spezialisiert. MDT hat mit der Video Telematics Management Solution der MioEYE K-Serie ein KI-fähiges, multifunktionales ADAS entwickelt. Das kameragestützte System kann in 360-Grad-Abdeckung operieren, es überwacht sowohl den Innen- als auch den Außenraum.
Noodoe Corporation entwickelt innovative Ladelösungen und cloud-basierte Betriebssysteme und revolutioniert damit den Markt für Ladenetzwerke. Mit dem Lademanagement-System Noodoe EV OS können Unternehmen Komplettlösungen angeboten werden, die den gesamten Betrieb ihres Ladenetzwerks automatisieren und damit effizienter gestalten.
Sie sind am 6. Oktober verhindert? Kein Problem! Registrieren Sie sich trotzdem zum Webinar. Wir stellen allen Teilnehmenden eine Aufzeichnung im Nachgang zur Verfügung.