Dieses Event ist beendet.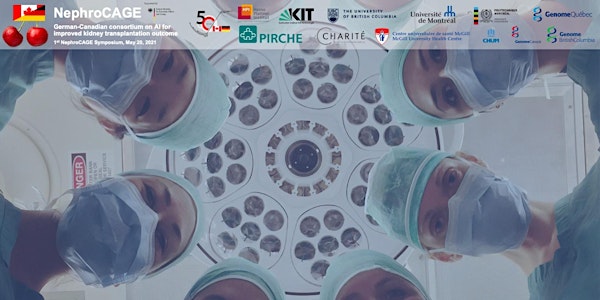 2021 NephroCAGE symposium
NephroCAGE symposium on Nephrology Disease Cooperation between Canada and Germany for Applied AI
Von NephroCAGE consortium
Datum und Uhrzeit
Do., 20. Mai 2021 07:45 - 10:00 PDT
Zu diesem Event
It is a pleasure to invite to participate in the NephroCAGE symposium taking place on May 20, 2021 in an online format. We are honored to be selected as distinguished event in the context of the 50 years bilateral research cooperation between Gmerany and Canada. In this online meeting, you will be able to attend pitch sessions of all NephroCAGE partners introducing their experience and their contributions to the bilaterial cooperation on applied AI. Use the session to learn more about kidney disease and kidney transplants, the importance of joint research cooperations and how artificial intelligence may support medical doctors in improving the success of clinical treatment. It is a great opportunity to network and get in touch with experts from the NephroCAGE consortium, which celebrates its official kickoff in 2021.
The German-Canadian consortium NephroCAGE is cooperating to demonstrate the added value of artificial intelligence (AI) using the concrete clinical example of kidney transplantation. Inadequate kidney function requires regular dialysis: there are currently around 100,000 dialysis patients in Germany, and around half that number in Canada. Dialysis costs approximately 30-40k EUR per patient per year. In comparison, a kidney transplant costs around 15-20 thousand euros. In 2019, more than 2,100 kidney transplants were performed in Germany (German Organ Transplant Foundation) and more than 1,700 in Canada (Canadian Institute for Health in Canada). However, suitable donor organs are rare: in Germany, for example, there are more than 7,000 patients on a waiting list, and in Canada more than 3,000. Even after a transplant, there is a risk of complications that can lead to severe limitations in kidney function or, in the worst case, even total loss of the organ.