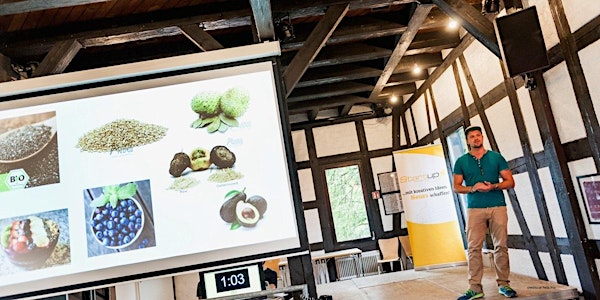 1st Venture Weekend Bioeconomy 2017
Location
University of Hohenheim
Schloss Hohenheim 1
70599 Stuttgart
Germany
Description
English version see below
Erstes Venture Weekend Bioeconomy in Stuttgart 2017
Deine eigene Geschäftsidee – verschiedene Teams – 54 Stunden
Dich erwartet ein Wochenende voller Motivation und Kreativität mit Fokus auf das Themenfeld Bioökonomie! Bioökonomie stellt die Verbindung der dei Säulen der Universtiät Hohenheim dar: Agrarwissenschaften, Naturwissenschaften sowie Wirtschafts- und Sozialwissenschaften. Du möchstest selbst ein Startup in diesem Bereich gründen? Dann solltest du dieses Event auf keinen Fall verpassen!
Freitag
Wir beginnen mit einem gemeinsamen Abendessen in netter Atmosphäre an der Universität Hohenheim. Präsentiere am Freitag gerne deine eigene Geschäftsidee (auf Deutsch oder Englisch) - in nur 60 Sekunden. Die besten Ideen kommen in die nächste Runde und Teams können gebildet werden. Auch wenn du keine eigene Geschäftsidee haben solltest, kannst du sehr gerne mit deinem inspirierenden Input am Erfolg eines anderen Teams teilnehmen.
Samstag
Im Mittelpunkt des Samstags steht die intensive Arbeit an den jeweiligen Projekten. Hierbei werdet ihr von Input-Sessions begleitet und erhaltet wertvolle Informationen und Tipps von professionellen Coaches und Mentoren.
Sonntag
Fast ist das Ziel des Wochenendes erreicht. Die Projekte und die Pitch-Präsentationen der Teilnehmer (auf Deutsch oder Englisch) müssen nun finalisiert werden, um am Abend zu zeigen, an was ihr das ganze Wochenende über gearbeitet habt. Die anderen Teilnehmer und unsere qualifizierte Jury freuen sich schon sehr darauf.
Essen und Trinken während des Events sind im Ticketpreis enthalten.
Event Ablaufplan (Abweichungen sind möglich)

---
Freitag, 17. November

17:15 Uhr Check-In beginnt: Kommt zu unserer Location und registriert euch

18:00 Uhr Hi and welcome! Input session über Bioökonomie

18:30 Uhr Kurze Einführung zum Event
19:00 Uhr Lasst die Pitches beginnen: Hier könnt ihr gerne eure Geschäftsidee vorstellen

19:45 Uhr Voting: Die Teilnehmer stimmen über die einzelnen Pitches ab

20:00 Uhr Abendessen: Genießt ein nettes gemeinsames Abendessen mit allen Teilnehmern und lernt euch besser kennen
21:00 Uhr Voting Ergebnisse und Team-Building: die mit den meisten Votes bewerteten Ideen werden verkündet und ihr könnt eure Teams bilden
22:00 Uhr Tag 1 ist rum: Ende des ersten Tages und ihr könnt euch ein wenig zuhause entspannen

---
Samstag, 18. November

8:15 Uhr Location öffnet
8:30 Uhr Frühstück: Kommt zur Location und genißet ein kleines, einfaches Frühstück

9:00 Uhr Input session über Business Modelling (Lean Canvas)
10:00 Uhr Beginnt mit der Arbeit: Richtet euch mit eurem Team für das Wochenende ein
13:00 Uhr Mittagessen
14:00 Uhr Erstes Coach meeting: die Coaches kommen, um euch bei euren Fragen und Problemen zu helfen
14:15 Uhr Status report: News / kurzes Update der Teams
19:00 Uhr Abendessen
22:30 Uhr Tag 2 ist rum: Ende des zweiten Tages und und ihr könnt euch ein wenig zuhause entspannen

---
Sonntag, 19. November

8:15 Uhr Location öffnet
9:00 Uhr Frühstück: Kommt zur Location und genißet ein kleines, einfaches Frühstück
10:00 Uhr Zweites Coach meeting: Die Coaches kommen, um euch bei euren Fragen und Problemen zu helfen
10:15 Uhr Status report: News / kurzes Update der Teams
12:30 Uhr Mittagessen
13:30 Uhr Input session: Pitch training, um euch bei der Vorbereitung eurer Abschluss-Pitches zu unterstützen

15:00 Uhr Optimiert eure Präsentation & Technik-Check

18:00 Uhr Abschlusspräsentationen

18:45 Uhr Abendessen
19:30 Uhr Judging & Awards: Gewinner und Preise werden verkündet
20:00 Uhr Wrap-up und finales Get-Together

21:00 Uhr Dritter und letzter Tag ist rum: Ende des letzten Tages - jetzt könnt ihr zuhause entspannen

---
Facebook Event:
https://www.facebook.com/events/350081248784038/

Weitere Informationen zu unserer Jury, unseren Speakern und zu unseren Mentoren findet ihr auf unserer Website:
https://www.garage-hohenheim.space/ventureweekend
---
Jury
Univ.-Prof. Dr. Andreas Kuckertz
Leiter des Fachgebiets Unternehmensgründungen und Unternehmertum (Entrepreneurship) an der Universität Hohenheim

Benedikt Bösel
Vorsitzender der Fachgruppe AgTech im Bundesverband Deutscher Start-ups I Mentor des Agro Innovation Labs I Investmentberater für Bioenterprise Capital
---
Speaker
Prof. Dr. agr. Iris Lewandowski
Prorektorin für Lehre I Leiterin des Fachgebiets für Nachwachsende Rohstoffe und Bioenergiepflanzen an der Universität Hohenheim

Armin Eichhorn
Gründer I Moderator
---
Mentoren / Coaches
Sebastian Donath
Gründer I Coach I My Pillow Factory

Bastian Winkler
Gründer I Geco-Gardens
Jens Schmelzle
Gründer I simpleshow I farmee
Lukas Kauderer
Gründer I Startup Willi I IiCili
Nadine und Anne Kathrin Antic
Geschäftsführerinnen I Gründerinnen I GlobalFlow GmbH
Michael Haufler
Geschäftsführer I Gründer I scireum GmbH
Christoph Völcker
Designer I Berater I Netzwerker I Gründer I d.sign21

Raphael Stäbler
Geschäftsführer I Gründer I 4e solutions GmbH
Dr. Christoph Mandl
Gründer

Timothy Earnshaw
Consultant I business development I bwcon GmbH
---
---
ENGLISH VERSION
1st Venture Weekend Bioeconomy in Stuttgart 2017
Your own business idea – different teams – 54 hours
You can expect a weekend full of motivation and creativity within the field of bioeconomy! Bioeconomy - the connection of the three pillars of the University of Hohenheim: agricultural sciences, natural sciences as well as social sciences and economics. You want to start a business in this field? Don´t miss this event!
Friday
We will start with a joint dinner in a pleasant atmosphere here at the University of Hohenheim. Present your startup idea - in only 60 seconds. The best ideas enter the next round and teams will be formed. Even if you don´t have a business idea, you can take part in the success of the team with your inspiring input.
Saturday
The focus of Saturday is the intensive work on the projects. You will be inspired by input sessions and you will get valuable information and tips by professional coaches and mentors.
Sunday
Getting closer to the finishing line. The projects and the pitch- presentations (in English or German) of the attendees must be completed to show what you were working on the whole weekend. The attendees and our qualified jury will be keen on that.
Food and drinks during the event are included in the ticket price.
Event schedule (deviations from the description are possible)

---
Friday November 17th
5:15 PM Check-In starts: Arrive at the venue and get registered

6:00 PM Hi and welcome! Input session about Bioeconomy

6:30 PM Short introduction to the event

7:00 PM Pitches Start: Optionally you can pitch your idea
7:45 PM Voting: Attendees vote for the best pitches
8:00 PM Dinnertime: Have a nice dinner with all attendees and get to know each other
9:00 PM Voting results and team forming: The most voted business ideas will be announced and you can build your teams

10:00 PM Day 1 is finished: End of the first day and take some rest at home

---
Saturday November 18th
8:15 AM Venue opens
8:30 AM Breakfast: Arrive at the venue and have a simple breakfast

9:00 AM Input session about Business Modelling (Lean Canvas)
10:00 AM Begin Work: Get comfortable with your team in your workspace for the weekend
1:00 PM Lunchtime
2:00 PM 1st Coach meeting: Coaches arrive to help you with your questions and problems
2:15 PM Status report: News / update of the teams
7:00 PM Dinnertime
10:30 PM Day 2 is finished: End of the second day and take some rest at home
---
Sunday November 19th
8:15 AM Venue opens
9:00 AM Breakfast: Arrive at the venue and have a simple breakfast
10:00 AM 2nd Coach meeting: Coaches arrive to help you with your questions and problems
10:15 PM Status report: News / update of the teams

12:30 PM Lunchtime
1:30 PM Input session: Pitch training to help you preparing your final pitches

3:00 PM Optimize your presentation & tech-check

6:00 PM Final Presentations

6:45 PM Dinnertime

7:30 PM Judging & Awards: Winners and prizes will be announced
8:00 PM Wrap-up and final get-together

9:00 PM Third and last day is finished: End of the last day - relax at home

---
Facebook event:
https://www.facebook.com/events/350081248784038/

You can find further informationen about our judges, our speakers and about our coaches / mentors on our website:

https://www.garage-hohenheim.space/ventureweekend

---
Judges
Univ.-Prof. Dr. Andreas Kuckertz
Head of the department of Entrepreneurship at the University of Hohenheim
Benedikt Bösel
Chairman of the AgTech specialist group in the German Startups Association I Mentor of the Agro Innovation Lab I Investment adviser for Bioenterprise Capital
---
Speaker
Prof. Dr. agr. Iris Lewandowski
Vice President for Academic Affairs I head of the department of Biobased Products and Energy Crops at the University of Hohenheim
Armin Eichhorn
Founder I Moderator
---
Mentors / Coaches
Sebastian Donath
Founder I Coach I My Pillow Factory

Bastian Winkler
Founder I Geco-Gardens
Jens Schmelzle
Founder I simpleshow I farmee
Lukas Kauderer
Founder I Startup Willi I IiCili
Nadine und Anne Kathrin Antic
Managing director I Founder I GlobalFlow GmbH
Michael Haufler
Managing director I Founder I scireum GmbH
Christoph Völcker
Designer I consultant I networker I founder I d.sign21

Raphael Stäbler
Managing director I Founder I 4e solutions GmbH
Dr. Christoph Mandl
Founder

Timothy Earnshaw
Consultant I business development I bwcon GmbH