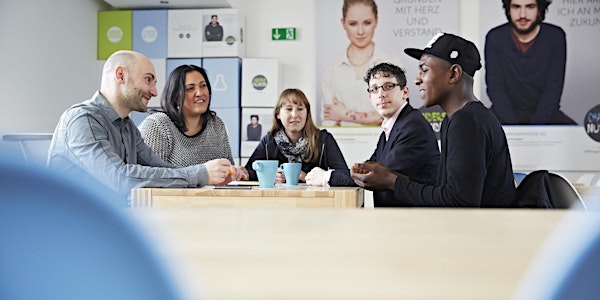 1st Conference of the European Migrant Entrepreneurship Network: Why Migran...
Location
Social Impact Lab München
Balanstraße 73
Campus der Ideen, Haus 21a
81541 München
Germany
Description
The European Migrant Entrepreneurship Network is set out to improve the conditions for Migrant Entrepreneurs substantially across all Europe! It will do this by networking organisations that support migrant entrepreneurship, so that they can learn from each other in three essential areas: Coaching and mentoring, Access to finance & Professionalism and diversity management.
We – the EMEN Partnership representing 12 dedicated European organisations – kindly invite you to the First EMEN Conference, taking place the 23 April 2018 in our Social Impact Lab Munich! Through-out the whole day we want to bring entrepreneurs, experts, practitioners and the interested together in order to discuss and share best practices in the support of entrepreneurial endeavours of migrants in Germany, Europe and beyond!
PROGRAMM
Day 1 – 23th April

2:00 PM: Words of Welcome and Keynote
The EMEN project presents itself and introduces the program ahead, by Norbert Kunz (SI) & Toby Johnson (AIEDL). An inspiring Keynote shedding light on the actual and potential contributions of Migrant Entrepreneurs to societal welfare (Speaker tbc.).
2:30 PM: Migrant Entrepreneurs Pitch Event
Four Migrant Entrepreneurs will present their business idea and talk about their daily challenges. Following this you will have the opportunity to exchange with the entrepreneurs in a Q&A session.
4:00 PM: Coffee break
4:30 PM: Expert Café
In 2 x 3 mini-workshops you will have the possibility to get deep-insights into a wide range of topics relevant to the of Migrant Entrepreneurship. The workshops will be led by experts of the respective field. [The content of the workshops will soon be posted]
6:00 PM: Panel and Wrap-up
We will close the official program with a short reflection about the main take-home-messages of the day. Therefore, we will give the word to the invited experts to share their thought in a moderated panel.
6:45 PM: Networking cocktail
In order to conclude the day we kindly invite you to stay for the informal networking part of the event. Get-together and exchange with the diverse participants of the 1st EMEN Conference!