Sales Have Ended
Ticket sales have ended
Der Verkauf für dieses Event ist leider beendet, aber es gibt hier noch Online-Tickets: https://conference2021.1e9.community/ Danke für dein Interesse an 1E9 THE_CONFERENCE!
Event Information
Location
Deutsches Museum
Museumsinsel 1
80538 München
Germany
Sales Have Ended
Ticket sales have ended
Der Verkauf für dieses Event ist leider beendet, aber es gibt hier noch Online-Tickets: https://conference2021.1e9.community/ Danke für dein Interesse an 1E9 THE_CONFERENCE!
Across the metaverse to new frontiers of biology and green growth: 3 evenings with guests from startups, VCs, corporates, arts and science.
About this event
Please note that due to the ongoing COVID 19 pandemic, for 1E9 THE_CONFERENCE 2021 the in Bavaria recommended 2G+ rules apply. This means that only people who can show proof that they have been fully vaccinated against COVID 19 or have recovered from it AND that have been tested negative on COVID19 (rapid or PCR test no older than 24h) will be granted access to the event.
Apart from that, regulation now requires you to wear a FFP2 mask during the event, except when you're eating and drinking or sitting at your table.
+++++++++++++++++++++++++++++++++++++++++++++++++++++++++++++++++
We live in a time full of opportunities. Through Web3, NFTs, and the Metaverse, we can create a better Internet. The combination of biology and technology is saving lives. But at the same time, our planet is on the brink of collapse. How do we get order out of this chaos?
Thinking about the motto for this year's conference, we were struck by how polarized public discourse has become. Too often we end up in "us versus them" situations. But it's not nature or technology, analog life or digital life, privacy or comfort, profit or impact. We don't have to choose between the old economy and the new economy.
Let's not fall back into the same divisive patters again and again. Let's create and celebrate collaborative solutions for a better future. Therefore, our motto for this year is: Synthese. (Which, by the way, is the German word for Synthesis.)
Featuring over 30 visionary speakers and artists, including:
Ugur Sahin, CEO, BioNTech SE
Dr. Özlem Türeci, CMO, BioNTech SE
PhD Katalin Karikó, Senior Vice President RNA Protein Replacement Therapies, BioNTech SE
Ann-Kristin Achleitner, TUM Distinguished Affiliated Professor, Technical University of Munich
Vitalik Buterin, Co-Founder, Ethereum
Christoph Jentzsch, Independent programmer, early Ethereum core team member
Susanne Kadner, Head of Circular Economy Initiative Germany, acatech
Wolfgang M. Heckl, Director General, Deutsches Museum
Dr.-Ing. Heba Aguib, Chief Executive, RESPOND & Executive, BMW Foundation Herbert Quandt
Danijel Visevic, Managing Director, World Fund
Alexander Lange, General Partner, Inflection
Zied Bahrouni, CEO & Founder, Motius Gmbh
Wolfgang Nellen, Prof. of Genetics aD (retired), founder Science Bridge e.V., Science Bridge e.V and Bio-Wisskom
Cassi Welling, Chief Operating Officer, ConstellR
Zsófia Péter, Project management, Poliloop
Dominik Campanella, Co-Founder, Concular
Jo B. Woehrstein, CEO, DEOXY GmbH
Mehmet Ünal, Composer & Media Artist, Mehmet Ünal Studio
Kerem Demirayak, Studio Director, Mehmet Ünal Studio
Max Marquart, Co-Founder, QOA
Tilen Travnik, Co-Founder & CEO, Juicy Marbles
and many more...
For all speakers and programm details check out our conference website.
Want to know which conference day suits you best? Here you can find out what to expect:
November 23rd
Web3, the Metaverse and the future digital space featuring Vitalik Buterin (online), Christoph Jentzsch, Alexander Lange, Lili Feyerabend, the performance of Mehmet Unal Studio and more.
November 24th
The transformation of our economic system, the future of food and the biotechnological revolution featuring Ann-Kristin Achleitner, Wolfgang Nellen, Jo B. Woehrstein, Max Marquart, Tilen Travik and more. Also: The final of our New Realities Competition, and a glimpse into the Quantum Metaverse with Enrique Solano.
November 25th
Tech4Good, Green Growth and the BioNTech story featuring Katalin Karikó, Ugur Sahin, Özlem Türeci, Heba Aguib, Danijel Visevic, Susanne Kadner, Cassi Welling, Zsófia Péter, Dominik Campanella and more.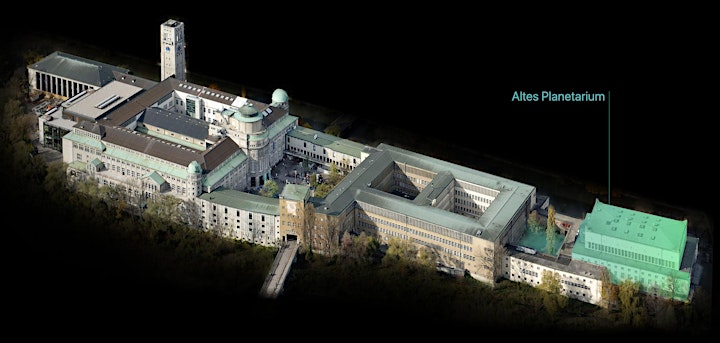 Date and time
Location
Deutsches Museum
Museumsinsel 1
80538 München
Germany