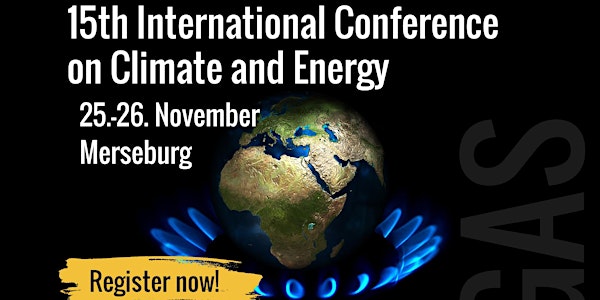 15th International Conference on Climate and Energy 25-26 November 2022
In times of exploding energy prices, experts take a very critical look at the energy transition and the premises of climate protection.
When and where
Location
Pfännerhall (Geiseltalsee), Braunsbedra Grubenweg 4 06242 Braunsbedra Germany
Refund Policy
Contact the organizer to request a refund.
About this event
15th International EIKE Conference on Climate and Energy
25 - 26 November 2022, Merseburg, Germany
Friday, 25 November
From 9:00 h Registration
10:00 h Welcome:
In Defence of Science and Discourse
Dr. Holger Thuß
President, Europäisches Institut für Klima und Energie (EIKE)
10:15 h Human Society was always depending on Energy.Why Energy Transition is so hard?
Dr. Dominique Görlitz
Vegetation Geographer, Author of Non-Fiction, Filmproducer
11:00 h Net Zero Dogmatism and the Energy Crisis in UK
Dr. Benny Peiser
Director Net Zero Watch
11:45 h Why there is no Climate Emergency: an Analysis of the IPCC AR6 Report
Marcel Crok
Science Journalist and Co-Founder of CLINTEL
12:30 h Climate Research of EIKE and EIKE as Subject in "Climate Research"
Prof. Dr. Horst Lüdecke - via Video
Pressesprecher, Europäisches Institut für Klima und Energie (EIKE)
13:00 h – 14:30 h Joint Lunch
14:30 h Technically everything is possible…
About the Reality of Germany's Energy Transition
Prof. Dr. Helmut Alt
FH Aachen
15:30 h CMIP6 GCMs versus global surface temperatures: an ECS discussion
Prof. Dr. Nicola Scafetta
Università di Napoli Federico II, Dipartimento di Scienze della Terra
16:30 h – 17:00 h Break
17:00 h Is "the Science" a threat to the Open Society?
Prof. Dr. Un Owen;
Professor of Philosophy
17:45 h The attempts to implement the energy transition on three different islands
Peter Würdig
Dipl.-Ing. (Physics)
19:00 h Joint Dinner
Saturday, 26 November
9:00 h Nuclear Power: Thresholds and the Radiation Anxiety
Dr. Lutz Niemann
Physicist and former Radiation Safety Officer
9:45 h The Great Fearmongering –
Nuclear Energy Safety Concepts and the Human Factor
Manfred Haferburg
Nuclear Energy Expert, Publisher, former 1st man in the Nuclear Power Plant Greifswald
10:45 h – 11:15 h Break
11:15 h The displaced Energy Emergency
Regulated Pricing, Price Caps, centralized EU Purchasing:
Germany and the EU on Treaty-busting Paths
Prof. Dr. Markus Kerber
Technische Universität Berlin
15:30 h What you always wanted to know about Climate Change...
Part II: From "The Sun all around" to Grilled Chicken!
Dipl.-Ing. Michael Limburg
Vizepräsident, Europäisches Institut für Klima und Energie (EIKE)
13:00 h – 14:30 h Joint Lunch
14:30 h What Role has the Sun played in Climate Change? What does it mean for us?
Prof. Dr. Henrik Svensmark
Centre for Sun-Climate Research des Danish National Space Centre
Prof. Dr. Nir Shaviv
Racah Institute of Physics - The Hebrew University of Jerusalem
16:15 h - 16:45 h Break
16:45 h The Planetary Theory of Solar Activity Variability: A Review
Prof. Dr. Nicola Scafetta
Università di Napoli Federico II, Dipartimento di Scienze della Terra
17:30 h Nuclear Power in the 21st Century
Dr. Ing. Klaus-Dieter Humpich
Nuclear Engineer
18:15 h Side Effects of the End of the World
Günter Ederer
Wirtschaftspublizist, Filmproduzent und Buchautor
18:45 h EIKE's Way Ahead – Closing Remarks
Wolfgang Müller
Generalsekretär, Europäisches Institut für Klima und Energie (EIKE)
followed (18:50 h) Reception and End of the Conference
The conference will be simultaneously German-English / English-German interpreted.
The organizer reserves the right to change the program at short notice.
EIKE is the only German climate and energy institute that is fully privately funded.
Please support our work with your donation! Thank you very much!
Here is our donation account: IBAN: DE34 8309 4454 0042 4292 01
Volksbank Gera Jena Rudolstadt BIC: GENODEF1RUJ
EIKE (European Institute for Climate and Energy) is an association of a growing number of natural scientists, humanities scholars, economists, engineers, publicists and politicians.
EIKE offers members and partners a platform for the discussion and publication of scientific findings. EIKE prepares expert reports on its own behalf and on behalf of others, and organizes symposia and congresses. Furthermore, EIKE contributes to the education and enlightenment of the population and supports the foundation of political initiatives by providing scientific expertise. If you are interested, please contact us.
EIKE was founded in February 2007 and is financed by voluntary contributions of its members and donations. The registration as an association has taken place at the district court of Jena.