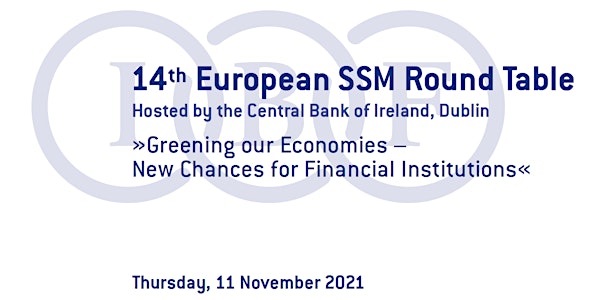 14th European SSM Round Table
14th European SSM Round Table
By International Bankers Forum e.V.
Date and time
Thu, 11 Nov 2021 01:00 - 07:00 PST
About this event
»Greening our Economies – New Chances for Financial Institutions«
The European SSM Round Table has been established as a high-profile Round Table to exchange views and feedback between decision takers from the banks involved and representatives of the ECB, SSM, EBA, SRB, ESM and other European entities. This time, top level experts from European entities and banks will discuss current issues of greening economies and new chances for financial institutions and present and exchange their views within the framework of the 14th European SSM Round Table.
Selected speakers will give a deeper insight into their subjects and discuss the following topics:
»Sustainable Business – Financing Europe's Green and Digital Future«
»Upcoming Regulation in the Post-Pandemic Era«
»Effective ESG-related Supervision«
»Efficient Ways Towards a True Green Capital Markets Union«
The conference is hosted by the Central Bank of Ireland, Dublin.
Registration is necessary. Shortly before the event, you will receive a confirmation mail with a link to dial into the virtual event room.