Dieses Event ist beendet.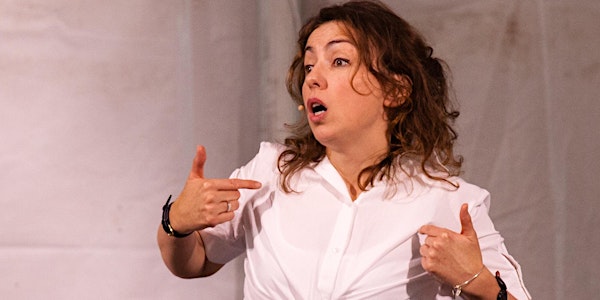 1001 Nacht zu Hause - 3: Lights in the Dark with Clare Murphy
Berlin Storytelling Night on Zoom. Special Guest Clare Murphy and afterwards Open Stage
Rückerstattungsrichtlinie
Kontaktieren Sie den Veranstalter, um eine Rückerstattung anzufordern.
Zu diesem Event
ENGLISH BELOW
Einmal im Monat findet in Berlin die Erzählbühne statt. Dort präsentieren renommierte Storyteller*innen Erzählkunst vom Feinsten und es gibt eine offene Bühne, wo das Publikum frei erzählen kann.
Wegen der Corona-Pandemie kann die Erzählbühne nicht wie gewohnt stattfinden. Aber gar nicht erzählen geht gar nicht! Den Hauptteil des Abends gestaltet die in Dublin geborene Erzählerin Clare Muireann Murphy. Sie hatte Auftritte in mehr als 20 Ländern auf den verschiedensten Bühnen und Festivals, von Globe Theatre und National Theatres London über Fabula Festival Sweden bis NASA's Jet Propulsion Laboratory in Kalifornien und viele andere. Clare Murphy hat sich sehr intensiv mit dem Erzählen im digitalen Raum beschäftigt und wird uns vergessen lassen, dass wir vor dem Bildschirm sitzen.
Der Auftritt von Clare Muireann Murphy findet in englischer Sprache statt. Im Anschluss gibt es eine offene Erzählbühne. Da kann selbstverständlich wieder deutsch gesprochen werden, aber auch dieser Teil des Abends wird möglicherweise mehrsprachig ablaufen, da wir auch einige Gäste aus Großbritannien erwarten können.
--------------
Once a month the storytelling stage Erzählbühne takes place in Berlin. Renowned artists present storytelling at its best. And the audience gets to tell its stories on an open stage.
Because of the pandemic we cannot host the event live as usual. But no storytelling is no option either! So we'll have Clare Murphy telling us stories of Lights in the Dark.
Storyteller Clare Muireann Murphy has been telling stories since 2006 on stages all over the world including The Globe Theatre London, Open Eye Theatre Minneapolis, and Fabula Festival Sweden.
Her work ranges from the political folkloric work to playful Science-story pieces that explore where quantum physics, philosophy and mythology meet. She has performed for President Mary Robinson of Ireland, NASA Jet Propulsion Laboratory and the writers at the Royal Shakespeare Company. She has worked outside of the world of performance teaching all kinds of people from scientists to veterans.
Her festivals include Cape Clear Festival Ireland, Beyond the Border Wales, National Storytelling Festival Jonesborough USA, Alden Biesen Storytelling Festival Belgium and many others.
Dublin born storyteller Clare Murphy has told stories worldwide since 2006. She tells for all ages on all kinds of stages. She has performed in more than 20 countries to audiences of 5 to 5000 people. Her work ranges from science-stories like UniVerse to socio-political pieces like The King of Lies to her beloved Irish mythology. She has performed for President Mary Robinson as well as at NASA's Jet Propulsion Laboratory.