Description
GERMAN VERSION


Auf dem 1. COWORKING GERMANY BARCAMP in Wuppertal wird den Themen,
die derzeit in der Community kursieren, Raum für Weiterentwicklung gegeben.
Aktuelle Fragestellungen und Ideen werden hier im offenen Barcamp-Format präsentiert.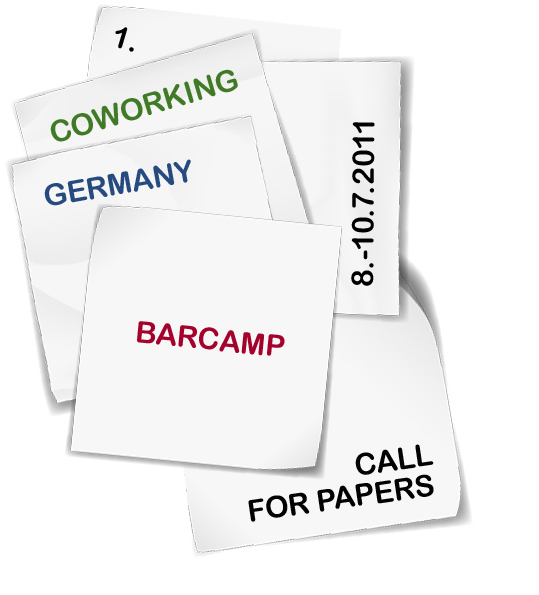 --- Coworking-Interessierte
--- Coworking-Praktizierende
--- Coworking-Space-Betreiber_innen
--- Coworking-Forscher_innen
--- Menschen, die Coworking
mit anderen Themen verknüpfen wollen

SIND EINGELADEN,
AB JETZT IHRE THEMENVORSCHLÄGE
FÜR DAS BARCAMP EINZUREICHEN

--- für Impulsvorträge
--- für Workshops
--- für offene Diskussionsforen

EINEN KURZEN ABSTRACT BITTE AN

--- anni.roolf@dezentrale.eu

Die eingereichten Themen werden im Vorfeld gesammelt und auf dieser Liste veröffentlicht: http://tinyurl.com/coproposals.

Themenvorschläge können aber auch noch spontan auf dem Barcamp selbst angemeldet werden.
Zu Beginn und im Verlauf des Barcamps wird dann über Auswahl und Reihenfolge der angemeldeten Themen entschieden.

PROGRAMM
FR 15-19 H
Check-in Jelly Space Haus der Jugend
19 H Coworking Dinner SA 10-19 H 1. Coworking Germany Barcamp 19 H Coworkers Worldbeats Paradise
SO 10-13 H Coworkers Breakfast, Street Art and History of Work

MO BIS FR: Eingebettet ist das 1. COWORKING GERMANY BARCAMP in die zweite Wuppertaler Jelly Week, die vom 4.-8.7. mit Coworking, Vorträgen, Workshops und Networking-Events stattfindet. Alle Besucher des Barcamps sind also auch herzlich eingeladen, den Besuch auf die Jelly Week auszudehnen.


ÜBERNACHTUNG

--- http://bildungsstaette-bundeshoehe.de/
--- http://www.hotelmiraflores.de/
--- http://tinyurl.com/wtal-by-night


WEB
--- facebook: http://www.facebook.com/event.php?eid=213359735359187
--- Xing: https://www.xing.com/events/1-coworking-germany-barcamp-760518
--- Homepage: www.cowowu.de
--- Barcamp Proposals: http://tinyurl.com/coproposals
--- twitter: http://twitter.com/cowowu
--- Barcamp Hashtag: #cowoba11
---

ENGLISH VERSION


The 1st COWORKING GERMANY BARCAMP (Wuppertal) will give room for the topics and their enhancements that are recently discussed in the German coworking community. Having an open and flexible formate, the Barcamp will allow all participants to contribute and discuss their current ideas and questions.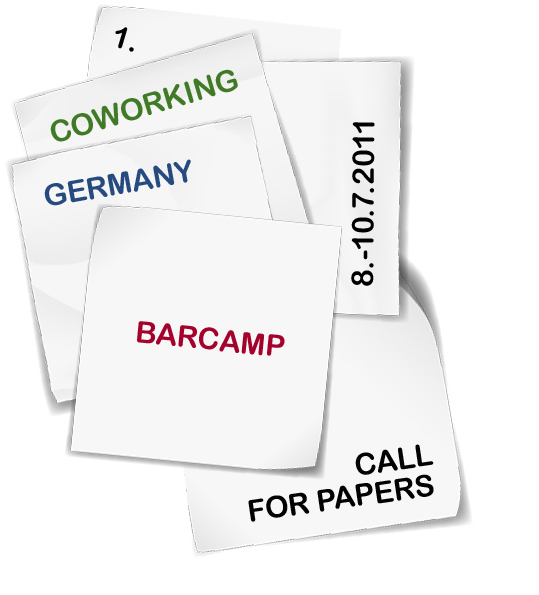 --- coworking enthusiasts
--- coworking practitioners
--- coworking space managers
--- coworking researchers
--- people, who want to relate
their work to coworking concepts

ARE INVITED TO SUBMIT THEIR PROPOSALS

--- for presentations
--- for workshops
--- for open discussions

PLEASE SEND A SHORT ABSTRACT TO

--- anni.roolf@dezentrale.eu

The proposals will be registered and published on: http://tinyurl.com/coproposals.

You can also propose your presentation or discussion topic on the actual Barcamp-Day. For organizational reasons we kindly ask you to send in your proposals before the conference.

At the beginning of the conference day all participants will decide about the actual conference programme from all the submitted contributions.


PROGRAM
FRI
15-19 H

Check-in Jelly Space Haus der Jugend

19 H
Coworking Dinner
SAT
10-19 H
1. Coworking Germany Barcamp
19 H
Coworkers Worldbeats Paradise

SUN
10-13 H
Coworkers Breakfast, Street Art and History of Work
MON - FRI: The barcamp will be embedded in the second Coworking JellyWeek which takes place from July 4th-7th and organizing lectures and events for networking. All visitors of the barcamp are warmly welcome to join the JellyWeek. Let us know, if you want to come earlier.


ACCOMMODATION POSSIBILITIES

--- http://bildungsstaette-bundeshoehe.de/
--- http://www.hotelmiraflores.de/
--- http://tinyurl.com/wtal-by-night


WEB
--- facebook: http://www.facebook.com/event.php?eid=213359735359187
--- Xing: https://www.xing.com/events/1-coworking-germany-barcamp-760518
--- Homepage: www.cowowu.de
--- Barcamp Proposals: http://tinyurl.com/coproposals
--- twitter: http://twitter.com/cowowu
--- Barcamp Hashtag: #cowoba11
---

INITIATOREN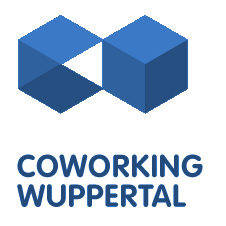 ---

PARTNER